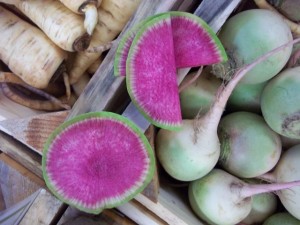 Happy November! We're happy to report that our regional farm partners made it through the storm without any damage, though we wish that were the case for the rest of the country. Our hearts go out to everyone who has been affected by last week's storm.
This week we're moving further into fall with beautiful root veggies, including the colorful watermelon radish from Atlas Farm! Also going out in boxes are cauliflower from Pedersen Farms in NY, sweet potatoes from NH, onions from Red Fire Farm, and beets, carrots, potatoes, and more from Atlas Farm.
Check out the newsletter for more produce news and this week's tasty recipes!