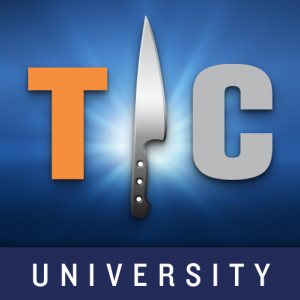 With New Year's approaching, many of us have goals and resolutions for the upcoming year. Learning to cook is a great way to knock out 2 of the most common resolutions – saving money and getting healthier. If learning better kitchen skills are on your to-do list, we've got an opportunity for you!
Enter our "Wanna Be a Top Chef?" promotion for a chance to win a free 12-month membership to Top Chef University! You'll learn new techniques and perfect your existing skills through hundreds of video cooking lessons from Top Chef contestants, all from the comfort of your own kitchen. Students will become proficient in professional cooking techniques and food preparation methods, from basic knife skills to advanced French techniques.
Courses focus on a wide range of subjects including:
Stocks, Soups, Sauces & Salads
Cooking Techniques 1: Sauté, Broil, Grill
Cooking Techniques 2: Roast, Braise, Fry, Confit
Vegetables, Eggs & Dairy
From the Ocean
Global Cuisine
Just Desserts
These online cooking classes are a great way to improve your everyday cooking and learn techniques that will help you create delicious meals with all of your fresh, organic produce.
So, what do you have to do?
We want to know 2 things:
1. What is your biggest challenge in the kitchen? (Is it time? Coming up with new ideas? Fear of knives?)
2. If you could study with a professional chef, what is that one thing you would want to learn or improve upon, and why?
All you have to do is share your home cooking challenges with us on our Facebook page, Twitter (@bostonorganics), or email us at marketing@bostonorganics.com
We are looking for a few paragraphs at most (roughly 150-200 words). One winner will be chosen.
Deadline to Enter:
Email or post your response by the end of the day on Sunday, January 6th. We will pick a winner and contact them by Friday, January 11th.
Note: You must be a Boston Organics customer to be eligible for this promotion.
Happy New Year!!