Ever wonder what's going on behind the scenes to get all that fresh produce to your door? We have a fantastic crew of drivers and warehouse staff who work hard to make sure produce gets to your door in the best condition, as quickly and efficiently as possible.
On a daily basis, our crew members receive all kinds of produce ranging from bananas to beets, then they build production lines, pack boxes, and break it all down, just to do it again the next day. With all that produce and all those people moving around, there is a lot to keep track of. We're lucky to have Pete, our Warehouse Manager who keeps everything and everyone headed in the right direction.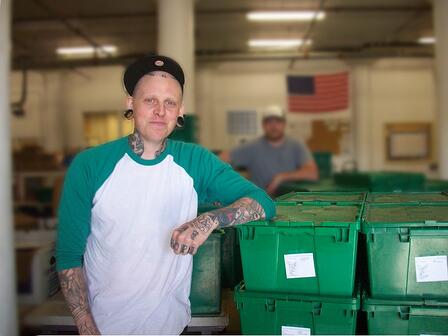 We had a chance to catch up with this dedicated team member to find out a little about him.
Where are you from?
"I grew up on Cape Cod in Hyannis, Massachusetts."
How did you get started at Boston Organics and where does your interest in food production and operations stem from?
"Truthfully, I wasn't that interested in food. I started at Boston Organics in the summer of 2008 because I was working in the mall cutting hair, and I was tired of working odd hours and not enjoying my summer. Boston Organics was looking for a warehouse employee from 6am-2pm - perfect summer hours. It allowed me to work but still enjoy my summer skateboarding and chilling. It was a good fit because I've been working in warehouses on and off throughout my life."
"I started as a warehouse employee in 2008 and quickly moved up to Head Receiver. I learned a lot about produce storage, handling, and variety from seeing it every day. As I worked I would see areas that could use improvement, and as problems arose I'd fix them even though I wasn't in charge. That's just my personality, I like to fix things."
"At some point in 2009 the Warehouse Manager was traveling. I had been involved in every aspect of the warehouse at that point and stepped up so much that they made me acting Warehouse Manager. A little while after that, Jeff hired me for the position full-time."
What's the most important improvement you have made in the warehouse?
"When I started, it took the warehouse crew a long time to finish their production lines. I could see the warehouse wasn't working as a cohesive group; people were having a hard time working together towards a common goal. In my experience, working in a warehouse is tough; no one gives you encouragement and most people just want to get through the day. I didn't want that for my workplace."
"I took it upon myself to make our environment positive. I didn't want people to wake up and think 'I don't want to go to work today' because that sucks. I worked hard to make the warehouse a positive place and made sure people could work together. Our warehouse crew now works really well together. When I started we were doing 300-400 deliveries a day. It took lines 3 hours to do 90 orders back then, now we are doing 550-650 orders a day and they can do 140 orders in 3 hours. I think it has a lot to do with the environment and being able to work together."
In your career what's the wackiest thing you've seen?
"I was working at a warehouse in Las Vegas years ago. There was a fork lift operator who was related to owner of the company. This guy was a total mess and terrible at driving the fork lift. I remember he use to stab the forks into boxes when he went to pick something up and he would bang the fork lift around the warehouse, hitting everything. One day he was using it to get a furniture set off of a 30ft stack and managed to completely screw it up and sent the furniture crashing down. After he broke that furniture, I guess they'd had enough and demoted him. The next day they told me to get my lift license and I became the operator after that!"
What's your favorite thing about working at Boston Organics?
"I enjoy the people I work with, which makes work a lot more fun. I also really like the sense of accomplishment at the end of the week. Each week the company is growing and the warehouse is packing more and more orders with the same amount of people. It feels good to knock out 2600 orders in a week."
Stay tuned to meet more Boston Organics employees and learn how things are done behind the scenes here at your local produce delivery company!