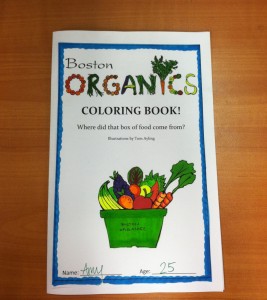 What do Vincent Van Gogh, Claude Monet, and YOU have in common? You all brought nature to life with your artistic touch!
Send us photos of your favorite pages from your completed coloring books, and we'll put them up in our very special Coloring Book Facebook Gallery (BYO organic wine and cheese)! The beauty of this gallery is that you can view and share your coloring book creation with our 5,000+ fans, from the comfort of your home, without waiting in line or paying admission. You can even wear your sweatpants or jammies.
You can email your photos to marketing@bostonorganics.com, or post them to our Facebook wall, share with us on Twitter, or pin 'em up on Pinterest.
We're excited to see all the renditions of our farm-to-customer experience, from the classic to the funky.