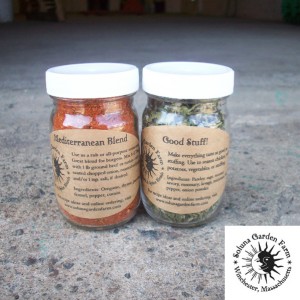 We're excited to bring a new add-on into our offerings - organic spice blends from Soluna Garden Farm in Winchester, Massachusetts! These spices are hand-blended and made with the finest quality organic ingredients.
One of our goals here at Boston Organics is to help our customers make healthy, flavorful, and creative meals using simple, fresh ingredients. We think these spice blends are the perfect solution to meal monotony; just throw a pinch into your favorite dishes to bring out new flavors. Because the spices are pre-mixed to perfection, all the work has been done for you!
We got in touch with Amy from Soluna Garden Farm to pick her brain about exciting ways to use a few of the blends. She gave us some quick tips to inspire cooking ideas, including a delicious recipe from one of her customers.
Good Stuff Blend
Ingredients: Organic parsley, sage, summer savory, rosemary, lovage, marjoram, black pepper, and onion power
Description: Makes everything taste as good as stuffing!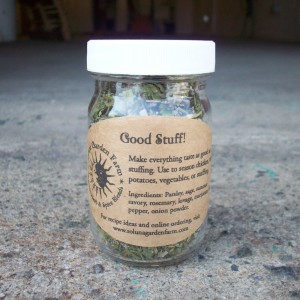 How to use it:
Sprinkle on chicken or turkey before roasting
Toss potato chunks in olive oil and Good Stuff seasoning, then roast
Use as a seasoning for stuffing
Mix in oil and vinegar for a flavorful salad dressing
Mediterranean Blend
Ingredients: Organic oregano, thyme, paprika, fennel, pepper, and cumin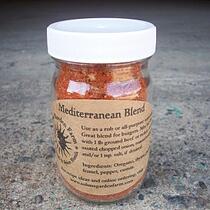 How to use it:
Use as a rub or all-purpose seasoning
Mix into turkey, beef, lamb, or bean burgers
Add to sausage, kale, and pasta (or just kale and pasta for a veggie version)
Sprinkle over salads, especially a chopped salad with zucchini
Mix into tuna salad with olive oil
Check out this recipe using the Mediterranean Blend from befitwithkristen.com: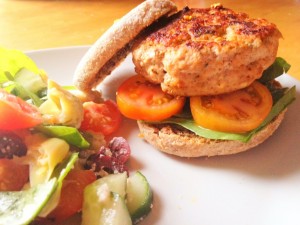 Mediterranean Turkey Burgers
Ingredients
1 pound lean ground turkey
1 egg, slightly beaten
2 Tbsp of Mediterranean rub
1 Handful of crumbled feta cheese
4 – 100% whole wheat buns, rolls, or English muffins
1 sliced tomato
Lettuce, spinach or mixed greens
Coarse ground mustard
Method
1. Add the ground turkey, egg, and spice rub in a bowl. Mix thoroughly with your hands. Take a handful or so of crumbled feta and mix it in with the seasoned meat. Divide the mixture into 4 patties and grill until the center is no longer pink, about 5-7 minutes per side.
2. Place the turkey burger on the roll and garnish with mustard, lettuce and tomato. Enjoy!
Want more recipes?
We're sure these spice blends would bring most recipes to the next level, so check out our Produce Info, Tips, and Recipes page for more inspiration!