Genetically Engineered Foods:
A community film screening and discussion
Join with Massachusetts GMO labeling advocates for a screening of the documentary Genetic Roulette (60 minutes) followed by a discussion about what GMOs mean for Jamaica Plain, Massachusetts, and how we can work together to keep our communities safe and healthy.
When: Sunday, February 16th
6:00 pm - 8:00 pm
Where: Spontaneous Celebrations
45 Danforth Street, Jamaica Plain, MA
This event is free and open to the public.
What are the health risks associated with Genetically Engineered foods (GMOs)?
What can we do to protect our food and our health?
How can we support efforts to label GMO foods?
Following a screening of the award-winning documentary "Genetic Roulette: The Gamble of our Lives," community members will join in discussion with Jack Kittredge, policy director at the Northeast Organic Farmers Association MA Chapter and Ed Stockman, biologist, organic farmer, and co-founder of MA Right to Know GMOs.
People will hear about the national and statewide movements for GMO labeling and discuss how to take action to declare our right to know what's in our food.
Boston Organics and Life Force Juice are sponsoring the event and providing light refreshments.
For details and updates on the event, please visit www.marighttoknow.org/home/jp
About the Film:
Are you and your family on the wrong side of a bet?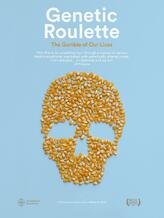 When the US government ignored repeated warnings by its own scientists and allowed untested genetically modified (GM) crops into our environment and food supply, it was a gamble of unprecedented proportions. The health of all living things and all future generations were put at risk by an infant technology.
After two decades, physicians and scientists have uncovered a grave trend. The same serious health problems found in lab animals, livestock, and pets that have been fed GM foods are now on the rise in the US population. And when people and animals stop eating genetically modified organisms (GMOs), their health improves.
This seminal documentary provides compelling evidence to help explain the deteriorating health of Americans, especially among children, and offers a recipe for protecting ourselves and our future.
This sometimes shocking film may change your diet, help you protect your family, and accelerate consumer rejection of GMO foods.
We hope you can make it to this important event and join the discussion about GMO labeling in Massachusetts!