A weekly update from Boston Organics.
It's official: We are in the best part of autumn. A highly sensory season, fall is filled with spicy smells, chilly breezes and the sounds of nature quieting in preparation for winter. Let's not forget the flavors, though, of sweet leafy greens, satisfying root veggies and hearty squash. It's a good week to get excited about the season, because fall is bursting out of every box.
Sweet Potatoes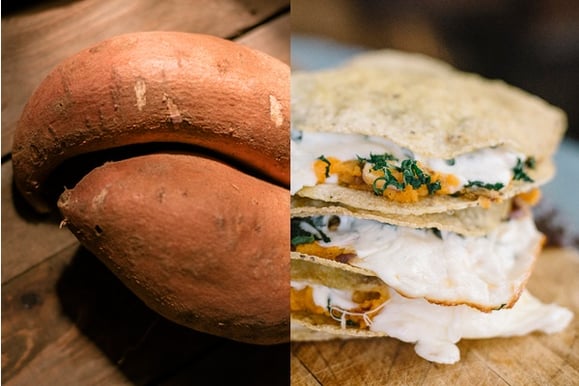 Along with a substantial variety of vegetables this week, Gideon Porth at Atlas Farm is bringing us sweet potatoes. Despite their similar appearance, the sweet potato is actually only distantly related to the common potato. And did you know that although there are differences between a sweet potato and a yam, the yams and sweet potatoes that are commonly available in the US are technically all sweet potatoes, regardless of how they are labeled?!
If you want to branch out beyond traditional roasted or baked sweet potatoes, we have a fantastic recipe for Sweet Potato Quesadillas. Tender, mashed sweet potato complements the salty, gooey cheese in this family-friendly dish. We used Oaxaca, but you can opt for Brie, Camembert or Monterey Jack—as long as it's melty!
Sister of Fortune Apples

We love being able to offer some truly delicious apple varieties year-round to the Boston Organics Community. However, this time of year is especially wonderful because we can offer varieties grown right here in New England.
In addition to those we get in steady supply from Read Miller of Dwight Miller & Son Orchard, we will be receiving Sister of Fortune apples from Hutchins Farm in Concord, MA. This variety—related to but distinctly different than the well-known Fortune apple—is very crisp and juicy with a flavor similar to that of a McIntosh. It's awesome for eating raw, and according to the grower, also superb for cooking.
The last time we offered these apples was in 2013, and they were so popular that we had to bring them back! While they will appear interchangeably with Read Miller's apples in boxes that include "local apples" this week, you can be certain you're getting the Sister of Fortune variety when you order apples as an add-on.
Enjoy Your Columbus Day
For those enjoying a day off from the office or school today, we wish you a lovely long weekend. (And for those working today, we hope it's a nice, quiet Monday!) We'll leave you with a little fun fact about the holiday, brought to us by History.com.
Contrary to common lore, Columbus did not set sail trying to prove the earth was round. He was trying to find a better route to Asia:
There was no need for Columbus to debunk the flat-earthers—the ancient Greeks had already done so. As early as the sixth century B.C., the Greek mathematician Pythagoras surmised the world was round, and two centuries later Aristotle backed him up with astronomical observations. By 1492 most educated people knew the planet was not shaped like a pancake.
There you have it. Enjoy your box and have a delicious week!