A weekly update from Boston Organics.
Author Faith Baldwin once painted a rich portrait of autumn, describing how it "[burns] brightly, a running flame through the mountains, a torch flung to the trees." The same goes for the fields in which our farm partners' crops grow. And this week we're taking some of fall's fiery enchantment, packing it up and bringing it to your doorstep.
Spaghetti Squash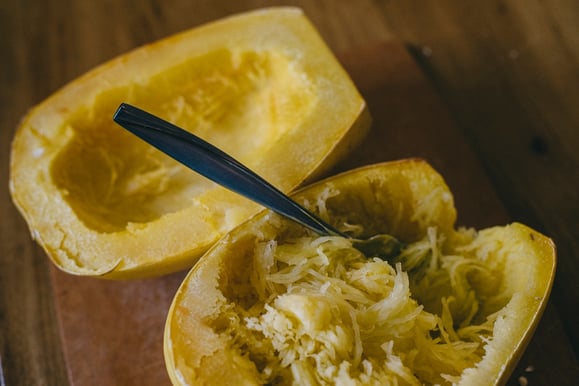 We've been featuring different squash throughout the season, and this week we have versatile spaghetti squash coming from both Nature's Circle and Blue Ox Farms. (Mini-history lesson: The spaghetti squash originated in China and was introduced to the United States during World War II.) As the name suggests, this Cucurbita's flesh, once cooked, can be separated into spaghetti-like strands. The squash is a popular substitute for traditional pasta in your favorite Italian dish because it's got a fraction of the calories and carbs. (And it's super tasty.)
You can eat the cooked flesh with a little olive oil and salt, or use it in place of spaghetti and ladle some marinara on top. We recommend taking it a step farther in this outstanding and creative recipe for Greek-Style Spaghetti Squash. Pair it with your favorite grilled protein for a healthy, satisfying meal.
Pomegranates

Pomegranates are one of those produce items that the Boston Organics Crew looks forward to every year. They're such a complex fruit—a little challenging to approach but worth the extra work. We get questions about the best way to prepare pomegranates, whether for salads, smoothies or eating right from the peel. Here are your steps to success:
Start by scoring the outside of the fruit.
Slice off the top of the pomegranate, exposing the seeds inside.
Pull the pomegranate apart into sections, following the natural divide of the white pith as much as possible.
Peel off any bits of membrane covering the clusters of pomegranate seeds.
Working over a bowl, push the seeds out of each section of the pomegranate and pop them into the bowl.
Or visit About.com for some helpful visual instructions.
Mustard Greens

We've been seeking out (and sending out) every organic leafy green we can get our hands on, and this week we've got another one for you—mustard greens from The Kitchen Garden.
Also known as leaf mustards, these organic greens have a wonderful flavor with hints of spicy pepper and horseradish. Mustard greens are very healthy and an excellent source of vitamin A and vitamin K. They have crisp, tender leaves which when mixed with sweet lettuce, makes them a refreshing addition to salads. When cooked, the flavor becomes more subdued, not unlike spinach. The mustard green is obtained from mustard plants belonging to the Brassica family, which also includes cabbage, broccoli and Brussels sprouts.
If you're trying mustard green for the first time, we suggest going with a simple, flavorful side dish like Calabrese Mustard Greens. You'll wonder how you ever lived without them!
It's about that time. Enjoy your box and have a delicious week!