A weekly update from Boston Organics.
The middle of fall is a season for savoring: the still-warm sunshine, a hot cup of cider in cold fingers, the smell of fallen leaves and crisp air. It's a season when we start to slow down after the energy and heat of summer. With the help of our farm partners, Boston Organics continues to pack your weekly boxes with the best of autumn's produce, so that you focus on savoring the fruits of the season without a trip to the grocery store.
Persimmons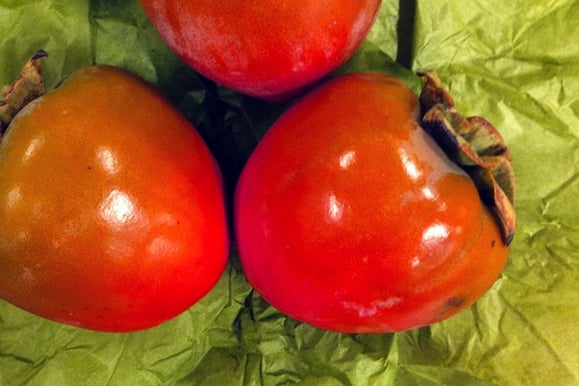 Fall brings us delicious local apples of many colors and textures, but it also offers less well-known fruit, like the hachiya persimmons that will be included in this week's boxes. If you've never tried a persimmon, let the name entice you. The genus to which persimmons belong is Diospyros, derived from the Greek, and translated approximately as "divine fruit" or "fruit of the gods." Once you've tasted its fiery-colored flesh, we're sure you'll agree. These acorn-shaped, red-orange fruits are topped with a crusty calyx, a vestige of the flowering part of the plant. This leafy top will pop off easily once the fruit is ripe.
Persimmons are commonly divided into two categories: sweet and astringent. This can be a little misleading, as hachiya persimmons are astringent until ripe, when they are full of delicious flavor. But ripening can require some patience; you don't want to eat this fruit until it is jelly soft, almost like a water balloon. In fact, though they are wonderful eaten by themselves, we like smashing them onto toast or a buttery scone for a tasty snack. Or, if you're feeling a bit more ambitious, experiment with persimmons in a more savory recipe, such as this Celery Root, Persimmon and Swiss Chard Stuffing.
Purple Top Turnips

Though we may be sad to see summer go, some crops, like purple top turnips, thrive in the cooler weather. This low-calorie root has white flesh and purple and white skin. The purple northern hemispheres that give these nutritious globes their name is the result of the turnips' "shoulders" being exposed to the sun as they grow.
Though often confused with yellow-fleshed rutabagas, purple top turnips have a unique history all their own. It is believed that turnips were domesticated as early as the 15th century BC, though initially the plant was desired for its oil-producing seeds, rather than its nutritious roots. But just because they're good for you doesn't mean that turnips can't have any fun; give them a try in this recipe for Garden Fries.
Parsley

You'd better take a second look at that garnish on your plate; often used as a culinary herb in many Mediterranean food traditions, parsley also has many health benefits, ranging from its kidney-supporting diuretic properties to countering halitosis. Don't let your organs settle down for a long winter's nap—parsley is also a liver-cleansing herb, helping to maintain balance even as we get into the season of indulgence. Oh, and did we mention that parsley is also packed with Vitamins A and C?
For those of you who receive a bunch of parsley from Atlas Farm in your box this week, we suggest you try making parsley the star of the show, like in this recipe for Lebanese Tabbouleh.
It's about that time. Enjoy your box and have a delicious week!