A weekly update from Boston Organics.
Thanksgiving week is finally here, and we're beside ourselves in anticipation for this major food holiday. While our bellies are full of excitement, our hearts are full of gratitude for those who make what we do possible.
Thank You, Boston Organics Community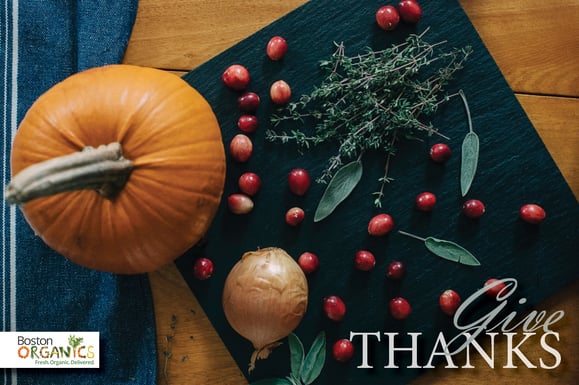 It's you who make every day worth it. Your hunger for sustainably sourced food inspires us to work only with the organic community's most respected growers, bakers, dairies and food producers. Your interest in the unique motivates us to seek out and deliver produce you haven't seen before. Your creativity in the kitchen and your excitement to share your endeavors encourages us to always look for new, fun ways to prepare the ingredients we deliver. And finally, your trust in us and our mission motivates us to continue making improvements to our quality and service, never settling for "good enough."
We are so grateful for you; our customers, our friends and our partners. We wish you nothing short of a fantastic Thanksgiving.
6 Last-Minute Thanksgiving Side Dishes

If you're racking your brain trying to come up with a recipe for your Thankgiving feast using ingredients you have on hand (or in your Boston Organics delivery), look no further.
Here are 6 last-minute Thanksgiving side dishes to guide you.
Not so much a side dish as a condiment, this velvety butter will complement your dinner rolls or fresh-baked bread perfectly. Use a sweet pie pumpkin, like the ones we have from Harlow Farm of Westminster, Vermont.
This recipe can be baked up in minutes with any thawed pizza dough, fresh garlic, olive oil, butter and parsley. Bonus: you get to fill your home with the smell of fresh-baked bread!
These pretty potatoes aren't quite as ubiquitous as their mashed counterparts during the holidays, but they are equally as delicious and arguably easier to put together in a pinch.
All of the flavors of fall come together in one satisfying side, and the best part is this recipe contains only five ingredients. Alternately, you can swap out the dairy milk for fresh almond milk to veganize the dish.
Appetizers are almost as important as the main meal in many Thanksgiving celebrations. You don't have to make all four variations in this recipe, though, pick one or two and knock 'em out of the park.
Surprise your friends and family with a twist on traditional roasted or boiled carrots. The kale adds a crisp texture and visual variety to this healthy dish.
Looks like you've got some cooking to do! Enjoy your box and have a delicious holiday week.