5/18-5/22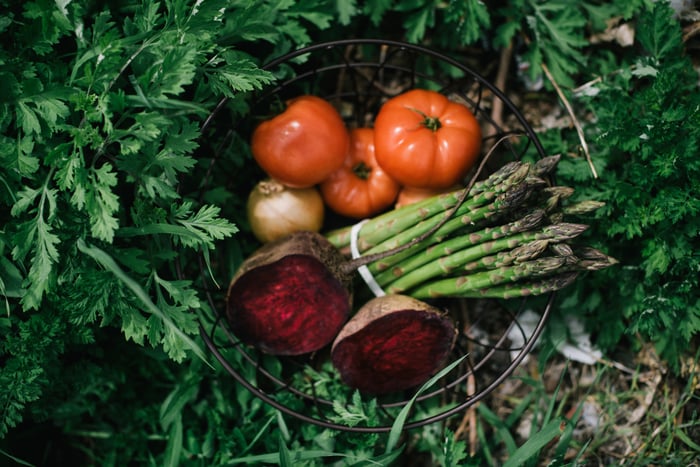 The organic tomatoes in this week's boxes come from Long Wind Farm, located right on the border between Vermont and New Hampshire. Dave Chapman founded Long Wind Farm in 1984 and has become an expert in growing juicy tomatoes that not only look good, but taste good, too.
Long Wind Farm grows their tomatoes in greenhouses to prolong the growing season and to protect their crops from unwanted pests and diseases. But unlike some greenhouse growers who rely on hydroponic technology, Dave is a big proponent of growing directly in the soil to replenish this vaulable natural resource through organic practices.
Long Wind Farm has focused on innovative ways to cut the amount of energy their greenhouses require. Since 2013, the farm has seen a reduction of total energy consumption by nearly 75%. We're excited to eat Long Wind Farm's tomatoes this week and look forward to seeing what they do next!
Dogma Box customers will be delighted to discover a bunch of organic asparagus in their box this week, grown by Pedersen Farm. Though the best local veggies are just starting to sprout, asparagus is one of those early spring crops that can be harvested just a few weeks after the last frost.
Grab a jar of our new organic Dijon mustard and a few of your local potatoes from Nature's Circle Farm and roast them alongside your fresh asparagus for a wonderful spring salad.
Learn how to make Warm Dijon Roasted Asparagus and Potato Salad.
---
This Week's Local Produce
Hot House Tomatoes
Parsnips
Sage
Beets
Carrots
Turnips


Asaparagus Empire Apples
Potatoes
Yellow Onions
All of the fruits and vegetables we deliver are grown without synthetic pesticides and are USDA certified organic. Interested in receiving produce that's both organic and locally sourced all year round? Check out our Local Dogma Box.
Similar to a CSA or farm share, our Local Dogma Box is filled with the best organic produce from local and regional farms and brought right to your door each week. It's the easiest way to eat like a locavore!