6/8-6/12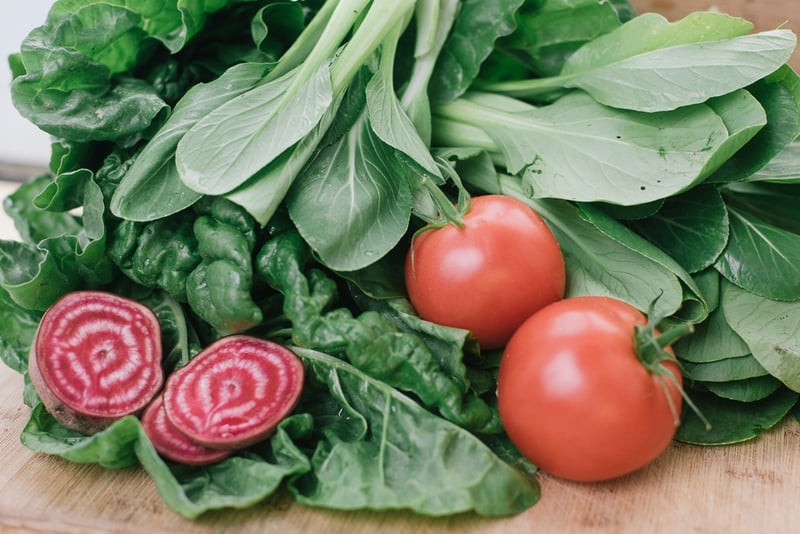 Typical of this time of the year, leafy greens are in great abundance, while much of the rest of our favorite seasonal produce is still ripening on the vine. Organic chard, kale, spinach, lettuce and bok choy are all coming from Atlas Farm this week. We can't help but wonder, what are we supposed to do with all of these organic greens?!
The obvious answer is to make a lot of salad. At the start of each week, we like to take a big head of romaine, chop it up, wash it down, and give it a good turn in the salad spinner. It makes salad prep much easier throughout the week, and a very easy option for a healthy office lunch; especially if you keep a bottle of Applachian Naturals Italian Hemp Salad Dressing in the fridge (made locally with organic ingredients!).
But most of these leafy greens can also be cooked—blanched, sauteed or baked into a filling and delicious dinner. Kale Pasta is a regular mid-week option for busy households while Chard Tacos with Spicy Tofu are a fun way for vegetarians to mix up international cuisines.
This week, however, with Atlas Farm also harvesting an early crop of Hakurei turnips, we have a brand new locavore recipe for you to try.
If you're unfamiliar with Hakurei turnips, you'll want to familiarize yourself with our aptly named blog post "What Are Hakurei Turnips?!" In short, Hakureis are a versatile Japanese turnip. They're a little spicy when eaten raw, but sweet and buttery when roasted or sauteed like in this week's recipe for Braised Bok Choy & Hakurei Turnips.
The Hakurei turnips will come with their own tops attached, which you can either add to the bok choy or save in a plastic bag in your crisper drawer for another meal later in the week.
---
This Week's Local Produce
Bok Choy
Chard
Kale
Romaine Lettuce
Spinach
Hakurei Turnips Hot House Cucumbers Hot House Tomatoes


Chioggia Beets Rhubarb
Sage
Potted Basil
Asaparagus


All of the fruits and vegetables we deliver are grown without synthetic pesticides and are USDA certified organic. Interested in receiving produce that's both organic and locally sourced all year round? Check out our Local Dogma Box.
Similar to a CSA or farm share, our Local Dogma Box is filled with the best organic produce from local and regional farms and brought right to your door each week. It's the easiest way to eat like a locavore!