6/22-6/26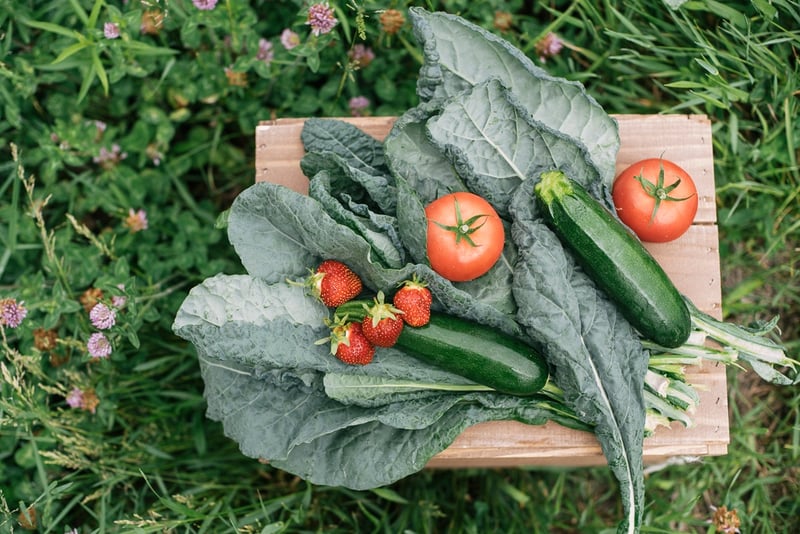 This spring our local farmers faced lengthy dry spells periodically interspersed with heavy rainstorms—making it difficult to predict which fields would need extra attention and which crops would be ready to harvest.
Nonetheless, Gideon Porth at Atlas Farm has decided to kick the local season into high gear, harvesting seven amazing organic vegetables for the Boston Organics Community this week. We think you'll be able to taste the difference between his farm-fresh, organic arugula and the generic leafy greens you'd otherwise find on a supermarket shelf.
That's certainly the case when it comes to the organic strawberries from Dwight Miller and Son Orchards. Dwight's son, Read Miller, has been growing strawberries on his family's land for many years, but this is one of the first times that he's grown enough to share with us.
Read Miller is also our primary local apple grower, so we're eagerly awaiting news from him on whether or not the spring apple blossoms were pollinated successfully for a bountiful fall harvest.
Atlas Farm is bringing us their first harvest of dandelion greens this week. If you're new to the Boston Organics Community, you may be surprised to learn that you can eat the leaves of an organic dandelion plant—as long as they're harvested before the familiar yellow flowers start to bloom.
Dandelion greens can be eaten raw like arugula, but they tend to be a little too bitter for most people's palate. That's why this recipe for Dandelion Pesto instructs you to briefly blanch the leaves before chopping them up.
The recipe was first sent to us by a member of the Boston Organics Community, Jennifer P. We've experimented with a few variations over the years, and found that mixing a handful of fresh-cut basil from Happy Valley Organics is another great way to cut the bitterness if you find it too strong. You can also try adding in blanched kale or roasted beets.
---
This Week's Local Produce
Arugula
Dandelion Greens
Garlic Scapes
Kale
Red Leaf Lettuce
Scallions
Summer Squash
Pickling Cucumbers


Fresh-Cut Basil
Potted Basil Bunched Red Beets
Hot House Tomatoes
Strawberries


All of the fruits and vegetables we deliver are grown without synthetic pesticides and are USDA certified organic. Interested in receiving produce that's both organic and locally sourced all year round? Check out our Local Dogma Box.
Similar to a CSA or farm share, our Local Dogma Box is filled with the best organic produce from local and regional farms and brought right to your door each week. It's the easiest way to eat like a locavore!