7/6-7/10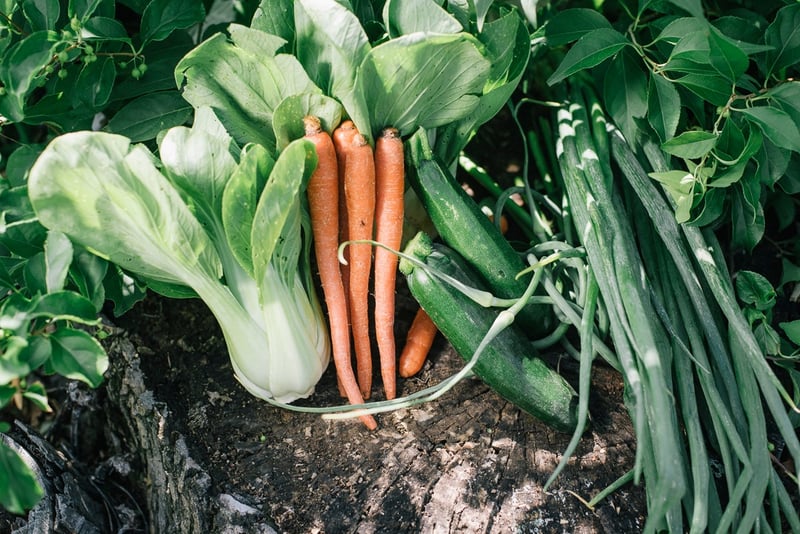 We've had a wonderful streak of bountiful harvests from our local farm partners in recent weeks, and we expect the crisp vegetables continue to roll in from our New England farmers through the rest of the summer and into the fall.
Atlas Farm steals the show this week with over a dozen different veggies, including bok choy and summer squash. Their diverse set of crops is a major component in Atlas Farm's organic farming strategy, which has made them one of our most prolific farm partners for nearly a decade.
You see, conventional farms rely on strong herbicides to kill weeds and synthetic fertilizers to maintain the soil in their vast fields of monoculture. In contrast, organic farmers like Gideon Porth use a carefully planned series of crop rotations to rebuild the nutrients in the soil and keep weeds and pests from gaining a foothold. By growing beets, collards and cukes — instead of just one — Gideon is creating a more resilient system at Atlas Farm.
Crop diversity also helps farmers "hedge their bets" against unforeseen dilemmas. For example, if a summer rain storm drowns one set of plants, the chances will be much better that something else will survive.
This recipe for Fennel, Kale and Rice Gratin from Martha Rose Shulman at the New York Times incorporates a number of the fresh, locally-grown vegetables featured in this week's Dogma Box.
Grab a bunch of organic lacinato kale, a spring onion and a bulb of fennel from Atlas Farm and you're well on your way to a delicious and filling dinner.
Don't forget to order extra garlic, a bag of organic brown rice and a half gallon of Shaw Farm milk from our add-on section if you're running low in your kitchen at home.
---
This Week's Local Produce
Bunched Beets
Bok Choy
Cabbage
Bunched Carrots
Chard
Collards
Pickling Cucumbers
Dandelion Greens
Fennel
Kale
Romaine Lettuce
Spring Onions
Summer Squash


Snap Peas
Sage
Potted Basil
Hot House Tomatoes
Garlic Scapes
All of the fruits and vegetables we deliver are grown without synthetic pesticides and are USDA certified organic. Interested in receiving produce that's both organic and locally sourced all year round? Check out our Local Dogma Box.
Similar to a CSA or farm share, our Local Dogma Box is filled with the best organic produce from local and regional farms and brought right to your door each week. It's the easiest way to eat like a locavore!