8/3-8/7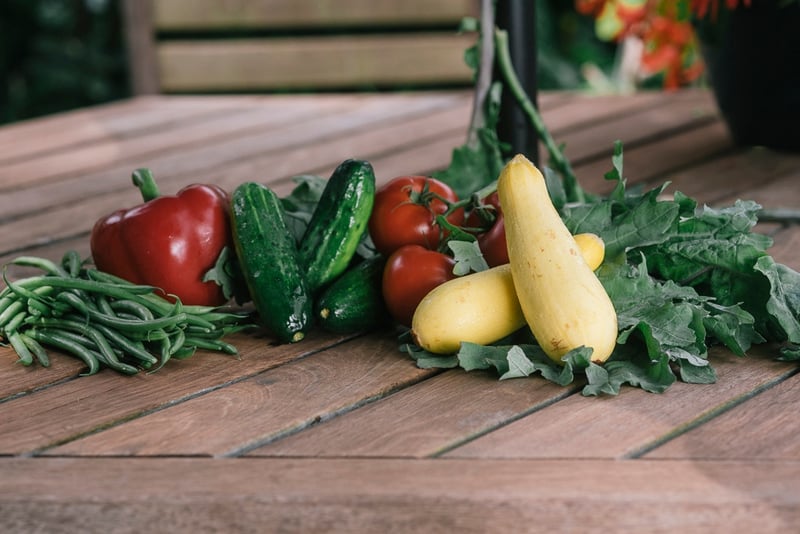 Farmers are often considered creatures of habit—if they find something that works well, they like to stick with it. At the same time, unpredictable weather patterns, pests and botanical diseases mean that organic farmers need to think on their feet and be ready to adapt and try new things at a moment's notice.
This week, our local farm partners are harvesting all of our old favorites: organic tomatoes, cucumbers, corn and Romaine lettuce. But we also have some exciting new vegetables for the Boston Organics Community to try!
Dogma Box customers will receive a head of organic spigarello from Kitchen Garden this week. Don't worry if you're unfamiliar with this new brassica, it's similar to the much revered broccoli rabe in both shape and flavor.
As you might be able to infer from the name, spigarello comes from Italy where it is well liked for its slightly sweet and peppery taste. Much like basil, which can be harvested several times throughout a single growing season, the spigarello plant branches off and continues to grow when the top leaves and stem have been cut off—making it a great plant for small farmers to grow.
Classic Italian preparation for spigarello includes sauteeing it with chili peppers, black olives and sausage or roasting it on top of a thin-crust pizza. We particularly like spigarello paired with a poached egg, which is how it's prepared in our locavore recipe of the week.
This leafy green has so much natural flavor that it doesn't really take much else to make it shine. When you're cooking with spigarello, you want to make sure you're using quality, organic ingredients so remember to order a half-dozen Pete and Gerry's organic eggs and a bottle of Pons Organic Extra Virgin Olive Oil if you're running low.
---
This Week's Local Produce
Arugula
Green Bell Peppers
Collard Greens
Pickling Cucumbers
Kale
Romaine Lettuce
Mixed Summer Squash Eggplant
Spigarello Chives
Green Beans Heirloom Tomatoes
Field Tomatoes Bunched Beets
Chard
Corn Blueberries New Potatoes
Are you a locavore?
If you enjoy eating fresh fruits and vegetables from local farms, you just might be a locavore. 617Eats is a new blog designed to help Boston locavores discover the best shops and restaurants in The Hub.
Our very own marketing manager, Tamara Monroe, wrote an article for the blog last week explaining "Why You Should Live a Locally Sourced Lifestyle."