8/10-8/14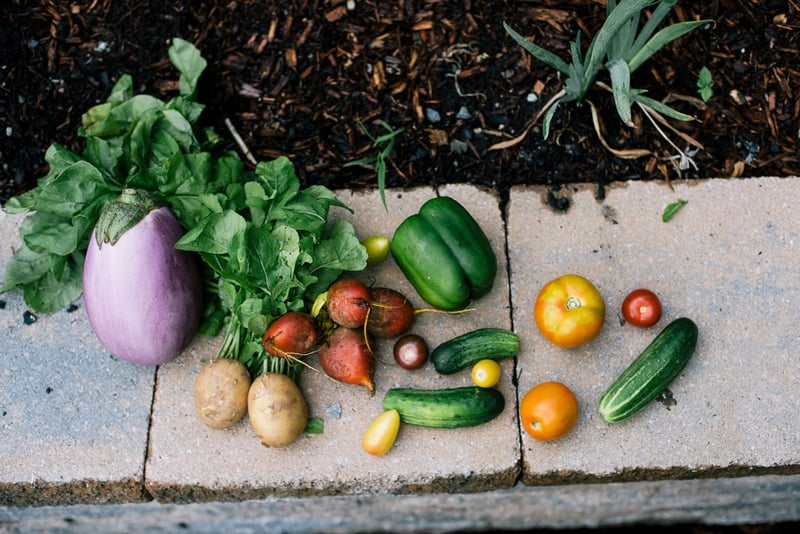 The bountiful harvests from our local farm partners continue this week with an absolute rainbow of color. Bright red tomatoes, summer squash and fresh corn on the cob round out a cornucopia that also includes several leafy greens, blueberries and eggplants.
The flavors are just as varied, with savory sage joining sweet bell peppers and bitter calaloo.
Perhaps the best part about buying locally grown produce is knowing that these fruits and vegetables don't need to be shipped halfway across the country, so they can be harvested at the peak of their ripeness. Our drivers bring them from the farm right to your doorstep, so you can enjoy them while they're fresh and full of flavor.
A tasty bruschetta is one of our favorite ways to prepare our veggies in the summertime.
The key to any good bruschetta is using a quality loaf of crusty bread and making sure that you have plenty of garlic on hand. For this recipe, we suggest using Nashoba Brook Bakery Whole Wheat Bread and a handful of organic garlic.
But unlike most bruschettas that center around tomatoes, this recipe highlights the organic kale from Atlas Farm and the fresh-cut sage from Happy Valley Organics. Throw in a few pinto beans from the local growers at Vermont Bean Crafters and you've got yourself one filling and delicious summer dish.
Use crostoni if you're planning to serve the bruschetta as an appetizer, or melt a little Parmesan on top of whole slices of bread for a tartine that will knock your socks off.
---
This Week's Local Produce
Arugula
Bunched Beets
Green Bell Peppers
Calaloo
Pickling Cucumbers
Kale
Red Leaf Lettuce
Mixed Summer Squash
Mung Bean Sprouts
Blueberries
New Potatoes Eggplant
Heirloom Tomatoes
Sage Corn
Grape Tomatoes


Green Cabbage
Field Tomatoes
All of the fruits and vegetables we deliver are grown without synthetic pesticides and are USDA certified organic. Interested in receiving produce that's both organic and locally sourced all year round? Check out our Local Dogma Box.
Similar to a CSA or farm share, our Local Dogma Box is filled with the best organic produce from local and regional farms and brought right to your door each week. It's the easiest way to eat like a locavore!