There may be a swirl of mixed emotions circling this week as kids prepare to go back to school. Whether the mood in your family is one of melancholy or excitement, Boston Organics is here to make sure everyone is ready to rise and shine (with a minimum of solar glaring at the bus coming down the road). Your produce box will be full of fruits and veggies to form the base for healthy meals, and our wide selection of add-ons will help make sure you have everything you need without the hassle of the grocery store.
Best start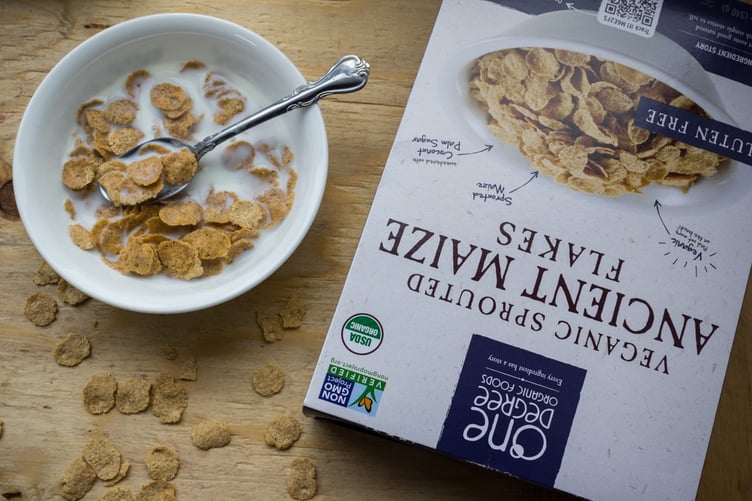 Backpacks, pencils, markers, rulers… with the kids all packed with the right gear for class, don't forget breakfast! Getting everyone out the door can be hectic, but we have some favorite meal ideas for helping everyone start the day on the right food, er, foot. These simple breakfasts can be made quickly with minimal cleanup, or can even be prepared ahead of time so there is no thinking involved (and really, how much thinking are we doing early in the morning anyway?). Below are the best back to school breakfast tricks.
---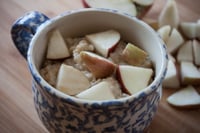 Overnight Oats: If you are new to this concept, prepare to fall in love. The formula is simple: combine your ingredients, cover, and stick in the fridge. Wake up to a breakfast ready to rock and roll; all you need is your spoon. The base of most recipes are steel cut oats and almond or dairy milk. From there, the possibilities are endless. Berries, sliced fruit, nut butter and seeds are all fair game. We're sure there's an overnight oat recipe out there to satisfy even the pickiest eater at your house and help them stay fueled throughout the day. These are some of our favorite kid (and grown-up!) friendly recipes: Peanut Butter and Jelly Overnight Oats; Chunky Monkey Overnight Oats; Orange, Coconut and Vanilla Overnight Oats.
---
Microwave Eg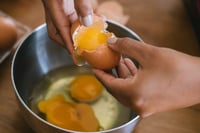 gs: One of the many benefits of overnight oats is that you're not stuck with a pot that needs washing. Microwave eggs make for another dirty-dish-minimizing breakfast. Hearty, protein-filled eggs are a great savory breakfast, and can be topped with cheese, veggies, salsa or ham. The best part is it takes just about a minute and half, and we're sure everyone will scrape up each tasty morsel, making clean up a snap.
---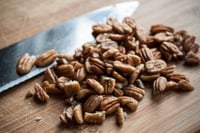 Homemade Breakfast Bars: For a grab and go option, it's nice to have a batch of homemade breakfast bars at the ready. There's nothing wrong with cereal for breakfast, but it can be a little tricky to take on the road. Get mobile with these Almond Cereal Bars, which get a boost from almond or peanut butter and incorporate the satisfying crunch of flaky cereal. To get some protein and fruit into a portable, delicious bar, we like these nutty, date-sweetened Apple-Cinnamon Bars. Make a big batch of bars ahead of time and freeze so you always have some handy.
---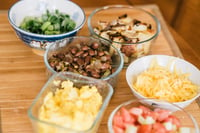 Make-Ahead Meals: Speaking of freezing, some of our other favorite fast breakfasts involve a little advance planning and freezing too. Make a batch of breakfast burritos and freeze. Adapt the recipe to include your kids' favorite burrito fillings. If sweet is more the thing at your house, cook up a big batch of pancakes or waffles, and toss them in the freezer. Toast them up on a weekday morning for an instant fan favorite.
---

Keep on the sunny side
Eggs can help make your weekday mornings brighter, but they are especially nice for your weekend brunch table, when you have time to linger a little, both in the course of preparing and eating a meal. Bring the sunshine with this recipe for Baked Eggs in Stuffed Peppers. This savory recipe is super satisfying, not only for the delicious eggs and cheese it incorporates, but also for the beautiful colors of the bell peppers and egg yolks. It also incorporates produce that we are delivering in abundance form our local farm partners, including multicolored bell peppers (from Queen's Greens and Atlas Farm) and acorn squash (from Middle Branch Farm).
Just because school is starting doesn't mean summer is totally over. Enjoy the sun's warmth, the (relatively) warm water, and still-sunny evenings while you still can. Savor the beginning of the end with sunset-colored Peach Sorbet.
See below for a complete list of this week's local produce.

---
This Week's Local Produce
All of the fruits and vegetables we deliver are grown without synthetic pesticides and are USDA certified organic. Interested in receiving produce that's both organic and locally sourced all year round? Check out our Local Dogma Box.
Similar to a CSA or farm share, our Local Dogma Box is filled with the best organic produce from local and regional farms and brought right to your door each week. It's the easiest way to eat like a locavore!