Throughout the year, members of the Boston Organics Community are able to enjoy locally grown produce thanks to the effort and expertise of our dedicated farm partners. The relationships our purchasing team has built over the years help bring our customers closer to the source of their food, and help to strengthen our regional food system. Last week, some of our staff had the opportunity to pay a visit to some of these hard-working farmers in western Massachusetts to learn about their operations and even taste some of the delicious produce members of the Boston Organics Community can expect to see in their boxes this week.
ATlas Farm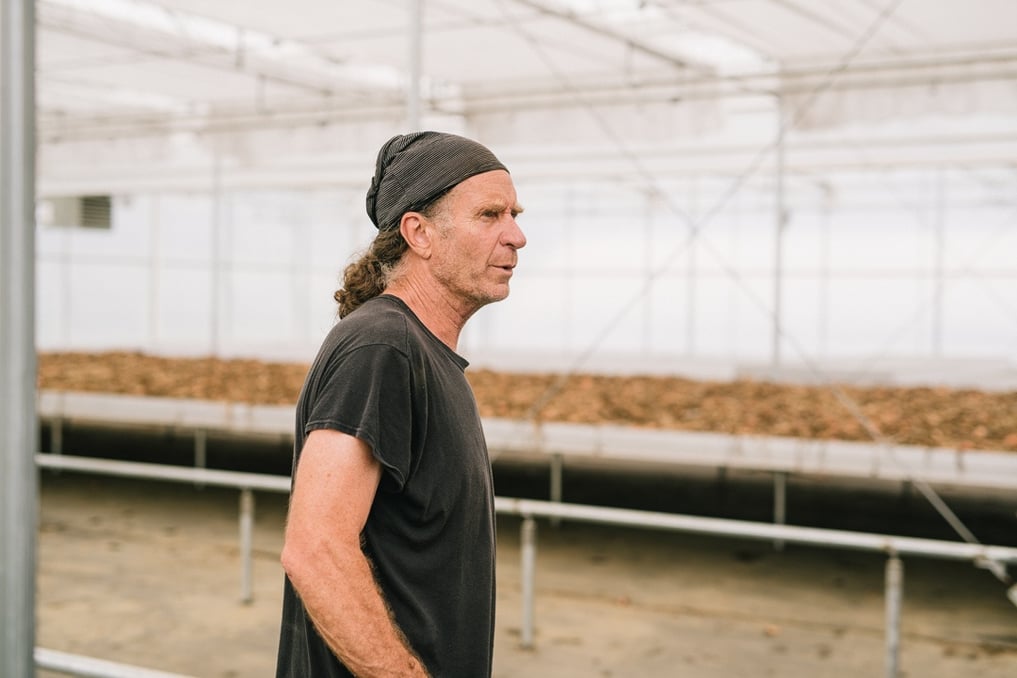 First stop on our tour was Atlas Farm, one of Boston Organics' oldest farm partners, and, as Gideon Porth, the farm's owner told us, the two businesses have really grown side by side. Throughout the summer, we have seen beautiful greens, peppers, squash and more grown on at Atlas.
As Chipper Sullivan (pictured above), the wholesale manager at Atlas, showed us around, he pointed out a large ridge that sits along the edge of the fields. This ridge separates Atlas' two portions of land. Though they neighbor each other as the crow flies, you have to go around the ridge to get from one to the other. This, he told us, is a significant aspect of growing in New England, where "the glaciers didn't leave us five thousand contiguous acres" as you can find in western states.
Chipper, who has a background in engineering and sustainable energy, was excited to show us Atlas' new greenhouse. The structure was completed last winter, and has three rows of 7 foot by 21 foot platforms that can be moved around on conveyors. These platforms can even be pushed outside, so that the seedlings growing on them can be "hardened off," or slowly acclimated to cooler nighttime temperatures. This process had taken much more time and effort, as seedling trays required two people to carry them out on stretchers. With the new greenhouse, they can be easily slid in and out by raising portions of the side walls.


Queen's Greens
Next we went to Queen's Greens, which has farmland in Sunderland and Amherst. We just started working with Queen's Greens this year, and have received peppers, heirloom tomatoes and fennel so far. Farmers Danya Teitelbaum and Matt Biskup have both worked on farms for about ten years, and bring a spirit of experimentation to their farm. Danya told us that she enjoys growing "weird" or unusual crop varieties, especially because often "they're just better." They only sell their produce wholesale, which allows them to spend more time in the fields and less at farmers' markets.
When we arrived, Matt and Danya were preparing a piece of their Sunderland property for a fall planting of greens. Some pieces of equipment are game changers for a farm, Danya told us, indicating the seeder that they pull behind their tractor. They are constantly fine-tuning their process to be more efficient, and continue to learn from the land. That said, there are some constants: though this was the first year that they have been certified organic, but they have always employed organic growing practices, because it "wouldn't occur to [them] to grow any other way."


Lakeside Organics of Hadley
Finally, we dropped in on Joe Czajkowski at Lakeside Organics of Hadley, just a few doors down from Queen's Greens' Amherst property. Joe's family has been farming in the Pioneer valley for generations, and no one has ever "dropped out to be a lawyer… or anything like that."
His operation is significant. Joe grows on 400 acres spread throughout Massachusetts, Vermont and Connecticut, 162 acres of which are certified organic. Much of his land in Hadley was once covered by the prehistoric Lake Hitchcock. When the lake dried up, it left behind the rich, deep, fertile soil that helps nourish Joe's organic corn, cherry tomatoes and butternut squash.
Joe says that he "likes seeing things grow," and is very knowledgeable about how to help his plants thrive. For each crop that we saw, Joe mused about the pests—insect or pathogen—that might damage it. Even though this year was challenging due to the drought, the dry weather prevented many diseases from taking hold. He especially finds PCap, a soil-dwelling pathogen that impacts tomatoes, to be "very troubling" because there are 23 different strains and it keeps adapting. Though we hope Joe doesn't have to use them, he certainly has a lot of innovative tools in the toolbox to help address pest problems.


Local Feast
After our visit, our minds were whirling with excitement for ways to prepare the produce we had seen growing, and even were able to sample. While we were visiting Queen's Greens, Danya handed us each a long red pepper. We spent the next several minutes gleefully munching and exclaiming over the flavor of this delicious variety. Known as bull's horn, these peppers are perfectly sweet and tender. If you can keep from devouring them raw, they are also a treat roasted and blended into a batch of Muhammara, or Turkish red pepper spread.
In other veggie news, Atlas Farms will deliver dandelion greens this week. We love this salad of Wilted Dandelion Salad with Pine Nuts and Crispy Garlic. The bitter greens are perfectly complemented by sweet orange juice. Make the most of what Joe at Lakeside Organics describes as a "magnificent" season for corn with a Caramelized Corn with Sage and Onions.
Happy Labor Day, and have a delicious week!
---
This Week's Local Produce

All of the fruits and vegetables we deliver are grown without synthetic pesticides and are USDA certified organic. Interested in receiving produce that's both organic and locally sourced all year round? Check out our Local Dogma Box.
Similar to a CSA or farm share, our Local Dogma Box is filled with the best organic produce from local and regional farms and brought right to your door each week. It's the easiest way to eat like a locavore!