We may have put away our white pants for the season, and school may be back in session, but here at Boston Organics, we aren't quite done with summer. Our farm partners continue to deliver an abundance of warm weather produce, from tomatoes to peppers to corn. And we say bring it! We are always game for more: more summer, more heat (though we're not talking just about the weather) and more seasonal add-ons, all headed your way in this week's boxes.
Adorable add-ons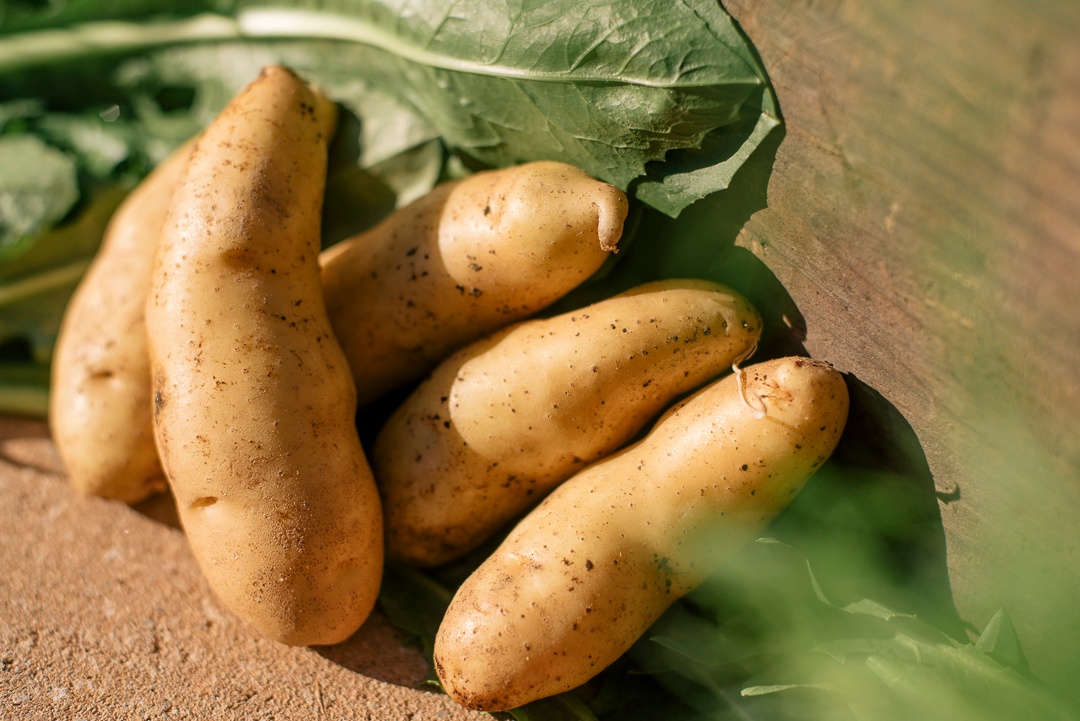 Throughout the local season, we have been steadily increasing our seasonal add-on offerings. This week, we are delighted to introduce a few more, especially because they are among the cutest of the veggies. Fingerling potatoes from Middle Branch Farm and orange snacking peppers from Atlas Farm can be found in boxes and on the add-ons pages this week. Their roast-whole or devour-in-two-bites size are sure to make you say "Aww." We know that we'll be using these tender little potatoes to brighten our Sunday brunch table with this recipe for Fingerling Potato Hash with Swiss Chard and Eggs.
Snacking peppers, as the name suggests, are perfect for lunchboxes and after school munching. These mini gems are full of sweet pepper flavor, and their two-bite size means you can eat them whole, no prep required. Serve with a dish of hummus, or enjoy some of the quintessential summer flavor of basil by making a batch of Lemon-Pesto Goat Cheese Dip. Order a bag of multicolored snacking peppers from Old Friends Farm today.
hot stuff
Though we are starting to move toward the cooler, crisp days of early fall, summer's heat hasn't quite left us yet. It lingers in the slow burn of the mixed bags of hot peppers that can be found in this week's boxes. The hottest among these will be bright orange habaneros. Cook these zingers with caution, and consider prepping with a pair of gloves to avoid irritated eyes later on.
Though not all of us are as tough as presidential hopeful Hillary Clinton, who says that she eats a hot pepper a day while campaigning to maintain a healthy immune system, there are plenty of ways to enjoy these potent peppers. Since we are loath to give up summer, our grill is still fired up. Cook a batch of Sweet Habanero Onions to add a level of flavor—and a different kind of flaming finish—to your favorite burger.
Falling for fruit
Ok, so maybe we can release our hold on summer just a bit, since there are some pretty great things about fall coming our way starting this week. We are excited to welcome back local apple season with Macintosh apples from Dwight Miller and Son orchard in Dummerston, VT. If you can't get enough of these juicy, delicate apples, a staple of early autumn in New England, order a bag of add-on local apples today.

Also available for the first time as an add-on this week are mixed bags of juicy Anjou and Bartlett pears. Change up the lunchtime routine by stocking up on pears and packing one for lunch. Pears are a low-calorie, high fiber fruit, making them a healthy addition to any meal or snack. Though known for their sweet flavor, pears can also take a walk on the savory side. To see pears in a new light, try this recipe for Braised Pears with a Soy-Ginger Glaze as a beautiful accompaniment to roasted chicken or pork.

Happy Labor Day, and have a delicious week!
---
This Week's Local Produce
Atlas Farm
(South Deerfield, MA)
Beets | Green Bell Peppers
Cabbage | Chard | Collards
Dandelion Greens | Kale
Red Leaf Lettuce | Snack Peppers
Summer Squash | Salad Tomatoes


Common Sense Farm
(Unity, ME)
Yellow Watermelon


The Kitchen Garden
(Sunderland, MA)
Fennel

Mousam Valley
(Springvale, ME)
Oyster Mushrooms


Queen's Greens
(Amherst, MA)
Sweet Peppers | Eggplant
Radishes | Heirloom Tomatoes

All of the fruits and vegetables we deliver are grown without synthetic pesticides and are USDA certified organic. Interested in receiving produce that's both organic and locally sourced all year round? Check out our Local Dogma Box.
Similar to a CSA or farm share, our Local Dogma Box is filled with the best organic produce from local and regional farms and brought right to your door each week. It's the easiest way to eat like a locavore!