Tonight is the first debate between presidential candidates Hillary Clinton and Donald Trump. This much-anticipated face-off and the hotly contested primaries have dominated the news and conversation for months. Here at Boston Organics, we're counteracting the stress, tension and noise of the election the best way we know how—cooking with fresh, organic ingredients. A side benefit of this method of coping is that it leaves the Boston Organics Community well-nourished and ready to be engaged citizens, whether by simply voting or getting involved in the campaign for a specific candidate or ballot question.
turnip the energy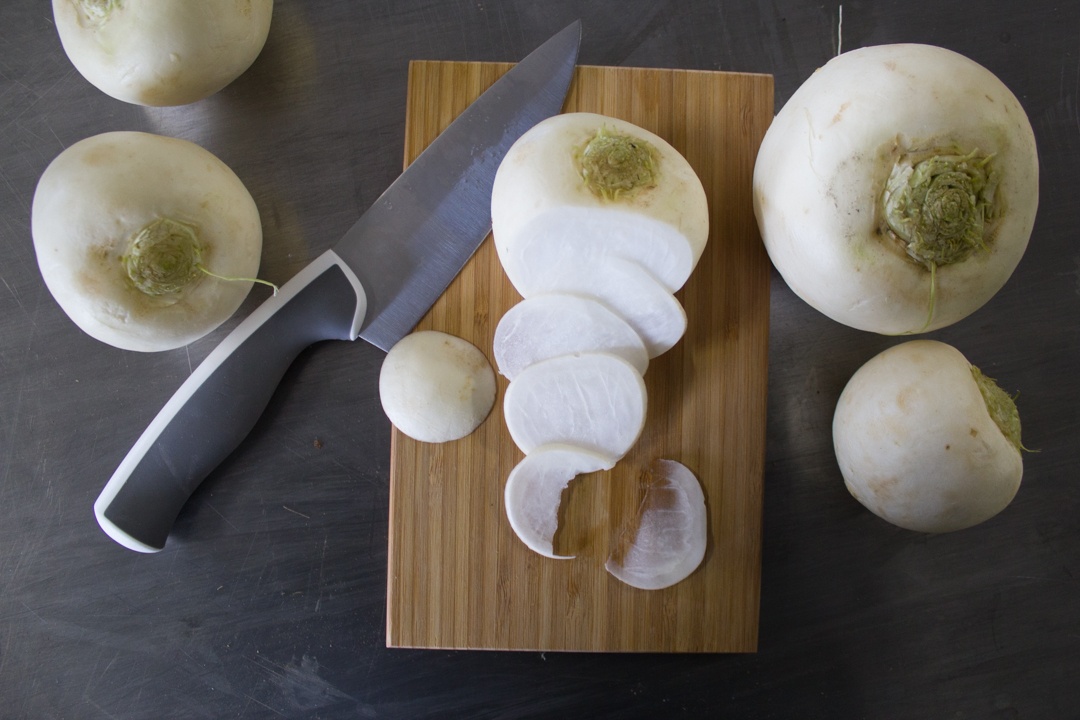 Just as all cooks have their own style—anything from completely slapdash to planning down to the placement of the last salt crystal—the two candidates are said to be taking different approaches to preparing for tonight's debate. Regardless of your own cooking style (or which candidate you prefer) whip up a simple and delicious meal before the debate starts. These Hakurei Turnip on Soba Noodles require no rehearsal to be gaffe-free.
If Hakurei turnips are new to you, you are in for a treat. You'll want to pursue them like a president pursuing a first hundred day plan. These fall favorites are beautiful, round with smooth, white skin. Their crisp crunch is autumn encapsulated. Enjoy them raw as a snack, or check out our blog for our favorite recipes.
Freshen UP
After months of primaries, speculation and jabs, we may start to feel a little election fatigue, or cycles of urgency followed by a perhaps even deeper fatigue. Stave off disengagement with a brief recess from the news so you can feel refreshed. This week we're enjoying some fresh, bright flavors—which we might cook with the news turned off, and chipper music turned up—as in this recipe for Broccoli Cheddar Soup. Warm, hearty and a little nostalgic, this soup is sure to take you to a happy place.
And if you are feeling any salad fatigue, look no farther than your Boston Organics box, where you may find arugula or mustard greens from Atlas Farm and Queen's Greens, respectively. These flavorful, slightly spicy greens are sure to add pep to any mixing bowl. For a mellower flavor, try gently sauteeing your mustard greens and feature them as you would spinach or chard.


Pomegranate power
In this contentious election, with the candidates continuously struggling for support, it's easy for conversations between coworkers, family or friends to get a little tense when talk turns to politics. As the candidates race neck and neck toward November, relax some of the muscles in your neck with a steaming plate of Delicata Squash with Honey, Pomegranate Seeds and Pepitas. Hearty delicata squash is comfortingly sweet and starchy, while the cheery burst of pomegranate seeds will help you feel that everything will be ok.
Comfort food
If you need some comfort food to get through tonight's debate, are looking for a snack to tuck into while watching the entertainment or just want to eat something truly delicious, make some ooey, gooey veggie-filled Cranberry, Butternut and Brussels Sprout Skillet Nachos. No matter what is said by the candidates, know that you will be saying "Mmmmm!"
Have a delicious week!
---
This Week's Local Produce

All of the fruits and vegetables we deliver are grown without synthetic pesticides and are USDA certified organic. Interested in receiving produce that's both organic and locally sourced all year round? Check out our Local Dogma Box.
Similar to a CSA or farm share, our Local Dogma Box is filled with the best organic produce from local and regional farms and brought right to your door each week. It's the easiest way to eat like a locavore!