This week is full of surprises, from mischievous ghouls jumping out at unsuspecting passerby to surprising identities revealed beneath Halloween masks. With changing seasons and ever-colder weather, this is also a time for turning inward, for reflection, and maybe there are surprises to be found there too. At the very least, there may be a surprise inside your Boston Organics box – in the form of new produce and add-ons.
Beneath the peel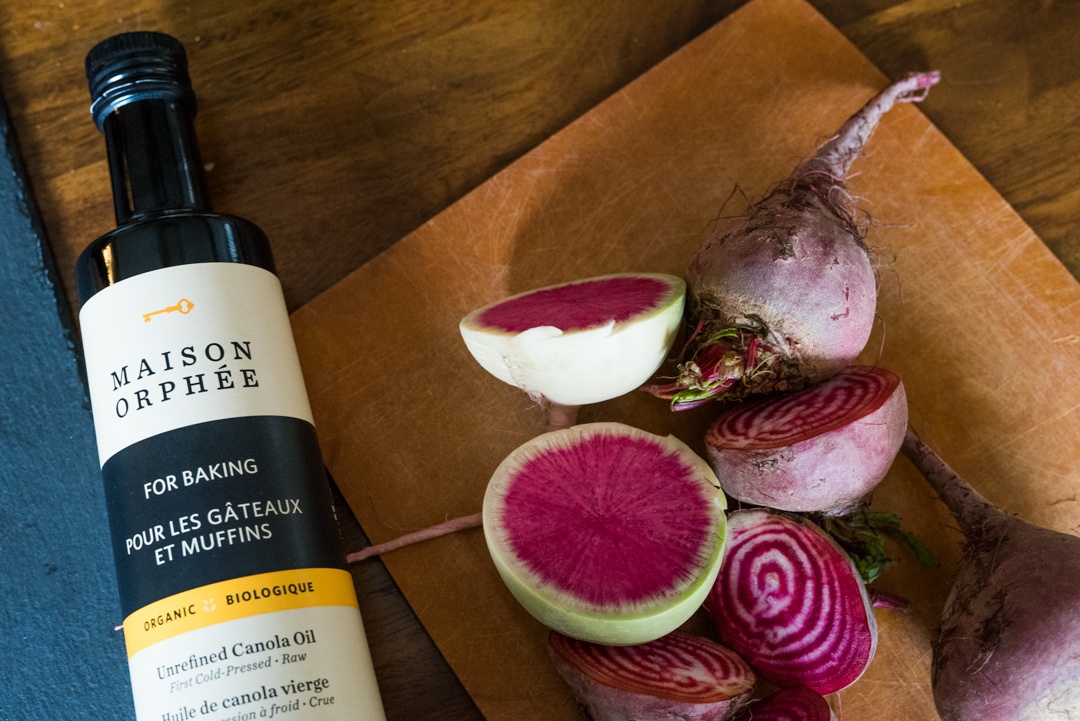 The produce in this week's boxes proves that even unassuming root veggies can surprise you. The candy cane stripes of the Chioggia beet, an Italian heirloom variety, aren't the only thing about this fun root that will put you in mind of sweet treats. Chioggia beets have a tender flesh that is milder and sweeter than red beets. Their color can fade when cooking Chioggia beets in water, so consider eating them raw to enjoy their full beauty.
While Chioggia beets may be a complete surprise, the watermelon radish's name gives a clue about it's secret identity. Slice open a pale green radish and you will be rewarded with the sight of a bright magenta interior. Watermelon radishes have a mild, peppery flavor, and brighten up any dish. Bring together these two sneaky friends with this recipe for Chioggia Beet and Watermelon Radish Chips. Serve with savory Mushroom Pate for a winning appetizer.
That fruit in your box may look just like a simple kiwi, but look a little closer. Perhaps it's just ever so slightly less fuzzy, ever so slightly larger than your typical kiwi. Slice one open and you'll see for sure that something is up. Instead of green, some of the kiwis in this week's boxes are golden. When we first had this gorgeous fruit in stock a few weeks ago, they became an instant staff favorite. The golden kiwis still have that unique kiwi flavor, but are sweeter, with a firmer flesh. We definitely recommend eating these beauties with a spoon—you won't want to miss a drop of juicy goodness.
savory snacking
This week we are also introducing some exciting new add-ons. If you're feeling sugar-ed out after Halloween festivities, recover with a healthy snack: organic baby carrots. These adorable crunchy bites are perfect for on-the-go veggie munching. If you're looking for a different kind of crunch, try out Hippeas. With three grams of protein per serving, these crunchy chickpea puffs are more satisfying than the average chip and will help power up the rest of your day.
Some add-ons available this week may look familiar, but they are different at heart. Lakeside Organics of Hadley is now providing our diced butternut squash. This handy add-on will make weekday meal prep a snap. We will also have local cranberries from Jonathan's Organics. Celebrate the abundance of New England autumn with a Butternut Squash, Apple and Cranberry Bake.
vivacious vermatoes
Another surprise in this week's box is tomatoes. Though we said goodbye to field tomatoes with the turn toward cold weather, Long Wind Farm of East Thetford, Vermont continues to grow "vermatoes" in their greenhouses. These tomatoes are on the small side, but are still full of flavor. Enjoy the flavors of summer to warm a cold fall evening with Focaccia with Caramelized Onions, Tomato and Rosemary.

Have a delicious week!
---
This Week's Local Produce

All of the fruits and vegetables we deliver are grown without synthetic pesticides and are USDA certified organic. Interested in receiving produce that's both organic and locally sourced all year round? Check out our Local Dogma Box.
Similar to a CSA or farm share, our Local Dogma Box is filled with the best organic produce from local and regional farms and brought right to your door each week. It's the easiest way to eat like a locavore!