Snow may be threatening this week, but we have just the antidote: cozy recipes prepared using produce from this week's boxes. Savory or sweet, these recipes will help you slow down, and settle in for a long winter's hibernation. And with produce and groceries delivered right to your door, you won't even have to go out in the storm.
Fresh and fragrant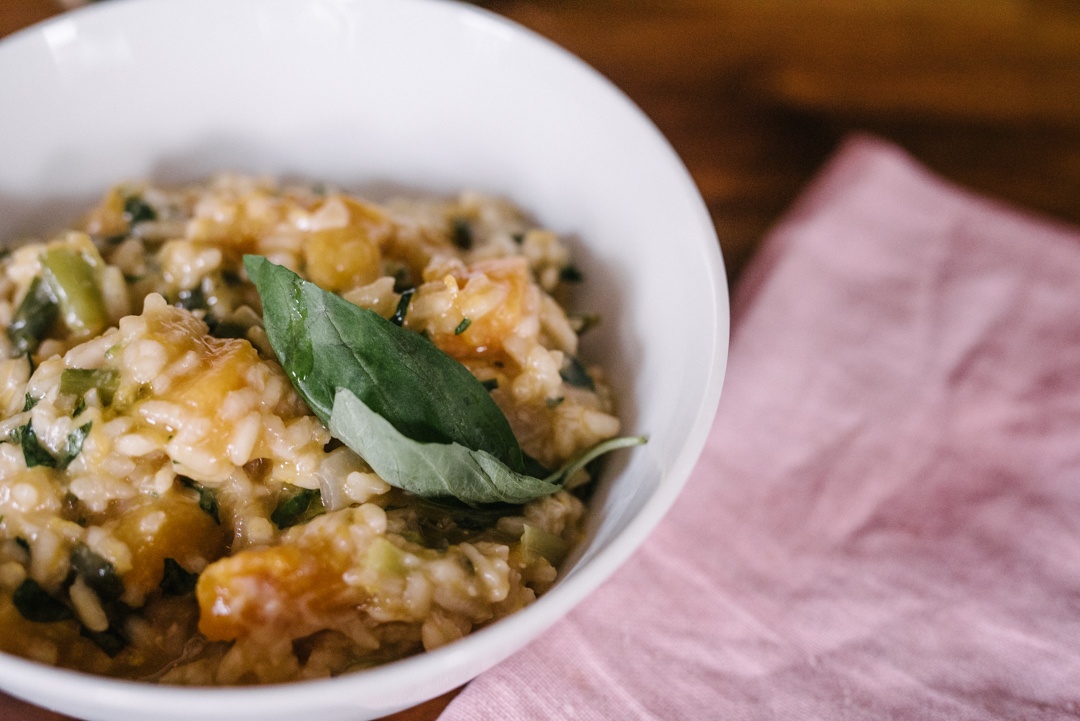 Even as the mercury drops, we continue to have beautiful fresh herbs from Happy Valley Organics of Whately, MA. Happy Valley has a 103kw PV solar system mounted on three of their barns, providing a large portion of the power necessary to operate the energy efficient heating, lighting and watering systems in their greenhouses.
Efficient, productive greenhouses mean that members of the Boston Organics community get to enjoy fresh herbs, including the basil in this week's boxes, throughout the winter. Combine fresh, aromatic basil with hearty squash and leeks in this rich risotto to celebrate the continuing abundance of New England farms.
our cookie jar
We confess that we are also indulging our sweet tooth this week, while incorporating some of the week's box contents in unexpected ways. We love cookie tins full of old standbys, but we also like experimenting with new ways to enchant our taste buds as we savor a cozy season with friends.
This week, we're trying twists on old favorites, including Citrus and Thyme Chocolate Chip Cookies. Once you've zested the richly orange minneolas included in this week's boxes, you'll definitely want to snack on the juicy, sweet segments while your cookies bake. Add some color to your sweet treats with this recipe for Whole Wheat Oatmeal, Chocolate Chip and Carrot Cookies. We are perhaps most excited to try these buttery, tart and sweet Fresh Cranberry Lemon Cookies. The bright flavors of cranberry and lemon are sure to mirror the bright lights of the season.
Surefire suppers
Don't get too full while working on your baking experiments. Unlike these Shepherd's Pie Stuffed Bell Peppers, being having a stuffed belly isn't always desirable. These savory peppers are the perfect supper after a day of baking or crafting, bringing warm savory goodness in a bright and nutritious package.
If you're looking for lighter fare, make a pot of this warming Egg Flower Soup with Oyster Mushrooms. This simple recipe is quick and flavorful, and highlights the oyster mushrooms that we will receive from Mousam Valley Mushrooms of Springvale, Maine. Mousam Valley grows mushrooms year-round in a converted dairy barn, using straw and Maine hardwood as the medium for growing fungi. They constantly experiment with varieities of mushrooms, striving to ensure that they are producing the most flavorful, closest to wild mushroom possible.
Have a delicious week!
---
This Week's Local Produce

All of the fruits and vegetables we deliver are grown without synthetic pesticides and are USDA certified organic. Interested in receiving produce that's both organic and locally sourced all year round? Check out our Local Dogma Box.
Similar to a CSA or farm share, our Local Dogma Box is filled with the best organic produce from local and regional farms and brought right to your door each week. It's the easiest way to eat like a locavore!