The holiday season is a busy and full one. Taking care of yourself can be simple, and is essential, for staying healthy so that you can enjoy this time of connection. That can mean making sure you eat enough veggies, or carving out a moment to sit alone with a warm mug in your hand. Whatever you need, Boston Organics is here to help make it simple.
Swag for your plate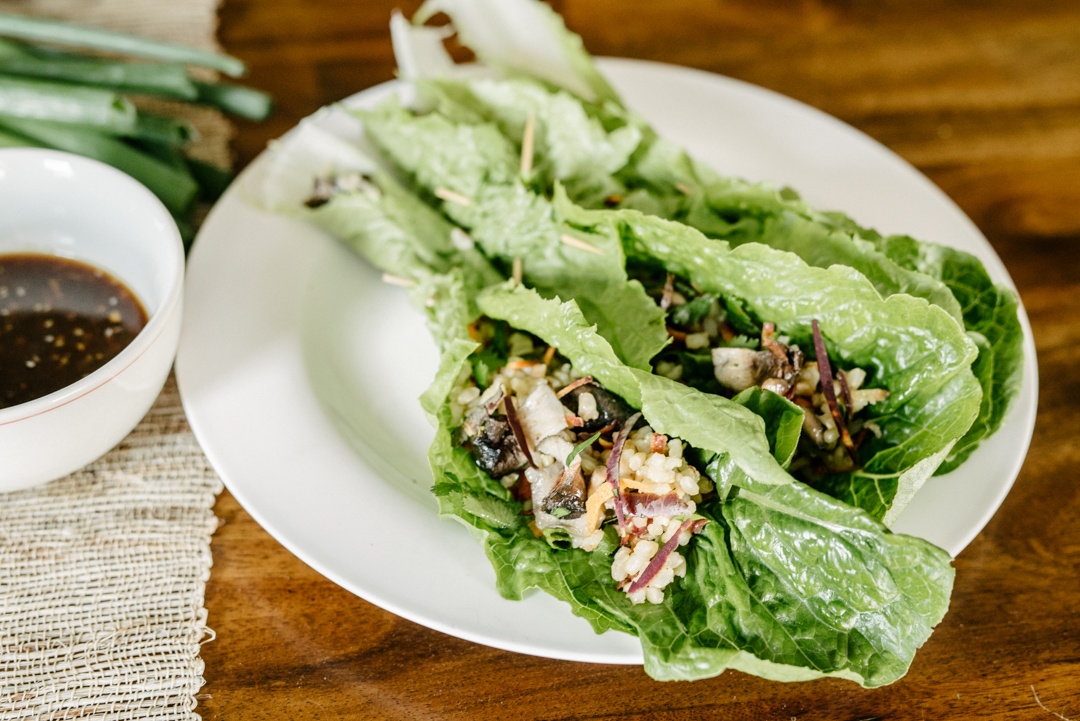 We sure do enjoy frosted sugar cookies and all the other rich foods that come our way this time of year, but we also recognize when our bodies express a hankering for more nutrient-dense food. There's lots of greenery decorating homes and businesses these days, but don't forget to let organic leafy greens adorn your plate! This doesn't mean you should eat boring – sweets don't have a monopoly on being festive and fun.
Good things come in small packages, and these Minneola and Brown Rice Lettuce Wraps are no exception. The earthy oyster mushrooms are complemented by bright and sweet segments of Minneola. Dipped in tangy sauce, these wraps are sure to make your tastebuds cheerful.
Beets and pomegranates add rich color and even a little bit of sparkle to this flavorful salad. With maple candied pecans and a sprinkle of cheese, this dish is sure to satisfy your sweet and savory hankerings, while providing some eye candy as well.
soothing soup
Making time for yourself can be an important part of staying healthy. Feel free to take a moment to slow down and reflect. Take a deep breath, and wrap your hands around a warm, comforting bowl of soup. Feeling the warmth and smelling the complex fragrance and mingled colors of our full bowls helps us feel calm and relaxed. This week, we're eating warming Curried Carrot and Sweet Potato Soup. At the very least, the ginger in this recipe will help warm you from the inside. And if you find that it's so delicious you want to share it with a friend, that's fine too.
Sprout!
When you're ready for your next holiday gathering, sprout out of your shell like the Munchin Mix from Jonathan's Organics that will be included in boxes this week. This crunchy blend of adzuki beans, lentils and peas is a great source of protein and Vitamins A, B, C and E. These legumes are lightly sprouted, meaning they have just started to grow.
Over the last thirty years, Jonathan's Organics has perfected their growing techniques and are able to nurture each type of seed or legume in the ideal conditions. Seeds are initially soaked in water, then drained. The seeds, and eventually, new sprouts, are rinsed in water several times a day to keep them moist, while preventing them from spoiling in standing water. After a few days, succulent, sprouts are ready to eat!

Make a unique appetizer to share with this recipe for Munchin' Mix Stuffed Mushrooms. Savory and nutritious, these munchies will surely wow the crowd.
Have a delicious week!
---
This Week's Local Produce
Atlas Farm
(South Deerfield, MA)
Cabbage | Carrots
Celeriac | Parsnips
Potatoes | Sweet Potatoes
Kohlrabi | Turnips


Jonathan's Sprouts
(Rochester, MA)
Cranberries
Munchin' Mix


Winter Moon Farm
(Hadley, MA)
Radishes | Beets
Rutabagas



All of the fruits and vegetables we deliver are grown without synthetic pesticides and are USDA certified organic. Interested in receiving produce that's both organic and locally sourced all year round? Check out our Local Dogma Box.
Similar to a CSA or farm share, our Local Dogma Box is filled with the best organic produce from local and regional farms and brought right to your door each week. It's the easiest way to eat like a locavore!