Produce for Winter Preparedness

In New England, cucumbers are often thought of as a refreshing, late summer vegetable, but we are lucky to have Northeast-grown cukes now, in February! These hydrating cucurbits come to us from the Deep Root Organic Co-Op, whose member farms are spread throughout Vermont and Quebec.
The unassuming, mild flavor of cucumbers belies their powerful nutritional value. Cucumbers contain many nutrients, including vitamins A, C and K, as well as folate, potassium and manganese. These nutrients, combined with the fact that cucumbers are 90% water, make cucumbers a replenishing snack on a cold, dry day. Whip up a batch of Asian Cucumber Salad with Basil for a glimpse of warmer weather ahead.

A warming soup can also be just the ticket on a gray day, and a good stock provides an excellent, nourishing base for your favorite recipe. Making broth at home allows you to put odds and ends from other cooking projects to good use. Freeze the leafy tops of celery stalks, fennel and leeks, the ends of onions, carrot peels and herb stems. When you're ready to brew some stock, toss them in the pot. This recipe for Kitchen Scrap Vegetable Broth can offer some guidance, or use whatever you have at hand!
Fresh Fennel and Chipper Citrus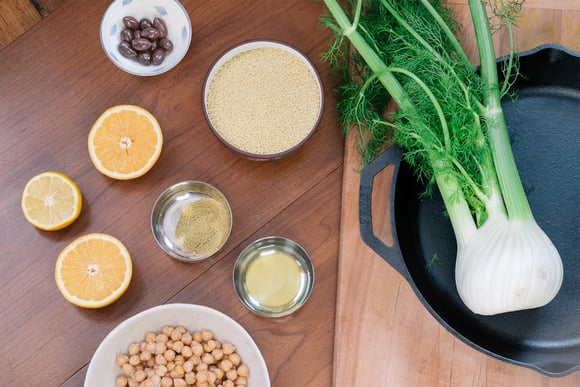 The fresh flavors of fennel and citrus help dispel winter's doldrums, adding color to your midwinter table. Bring the two of them together in this delicious recipe for Couscous with Fennel, Chickpeas and Citrus. If you're curious about other ways to use frilly green fennel, check out our blog for some inspiration.
Bring together the best of winter in these Loaded Baked Sweet Potatoes with Ginger Citrus Vinaigrette. Warming ginger and bright citrus beautifully complement the hearty, nutrient-dense sweet potatoes in this filling, colorful meal. Maybe winter's not so bad after all.
Cucumbers are just the tip of the iceberg when it comes to this week's local offerings, even though we may be in the deep freeze portion of winter. Our farm partners continue to deliver delicious produce that we bring right to your door.
---
This Week's Local Produce
Apples
Potatoes
Onions
Celeriac


Basil
Cucumbers
Purple-Top Turnips
Beets
Carrots
Daikon



All of the fruits and vegetables we deliver are grown without synthetic pesticides and are USDA certified organic. Interested in receiving produce that's both organic and locally sourced all year round? Check out our Local Dogma Box.
Similar to a CSA or farm share, our Local Dogma Box is filled with the best organic produce from local and regional farms and brought right to your door each week. It's the easiest way to eat like a locavore!