The days are getting longer, hinting at warmth and sunlight to come. In the meantime, however, we have many long cold days ahead of us, and are not quite through cold and flu season. Stay healthy for the remainder of the winter by getting enough rest, washing your hands thoroughly and by eating a wide variety of fruits and vegetables. Nutritionists often recommend "eating the rainbow" to ensure that you are maintaining a healthy diet. The wide spectrum of color found in your Boston Organics box this week is sure to help you meet that goal and nourish you throughout the season, and the year.
A+ Smoothie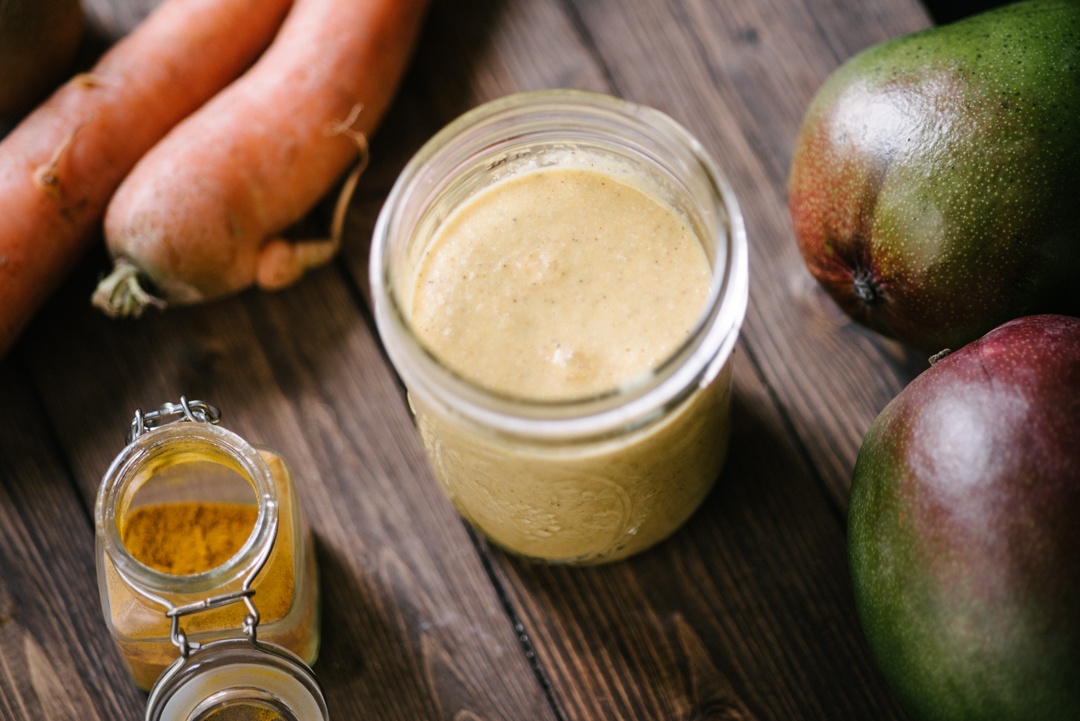 This week, make a nutrient-dense smoothie with produce from your box. The possibilities are endless, but we're looking forward to trying this Kiwi, Mango and Carrot Smoothie. Mangoes and kiwis are chock full of Vitamin C, which is thought to boost immunity.
In addition, carrots are commonly known to contain high concentrations of beta-carotene, while mangoes are rich in other carotenoids. These nutrients are precursors of Vitamin A, which can help support bone health, play a role in cell division, and support white blood cell production, making it an important nutrient for maintaining overall health.
Super Sweet Potato
Just like carrots, sweet potatoes are a great way to get your daily Vitamin A. Boost the benefits by loading up your sweet potato with Chard, Black Beans, and Walnuts. The list of nutrients in swiss chard is a long one, and includes Vitamins C, E, K and A, as well as fiber, calcium, iron, magnesium and others. Combine that with the fiber and protein found in the black beans and the healthy fats in the walnuts, and you've got yourself a super-satisfying and nourishing plant-based meal.
Winter Gems
More colors can be found in your box this week in the form of small, jewel-bright kumquats. Eat these special treats as a snack, or blend them with ginger to make a delicious vinaigrette. This uniquely sweet and warm dressing is perfect for any green salad, but who knows what you'll be inspired to use it for. And if you can't get enough, kumquats are available as an add-on this week too.
You may also see precious greenhouse tomatoes from Five College Farm in Hadley, MA. The farm includes 72 acres of organic vegetables, including two acres in greenhouses. Enjoy the flavors of summer in February in the form of these lovely tomatoes and fresh basil from Happy Valley Organics, located in Whately, MA. Enjoy the products of these two farms and start the day off with a serving of veggies in the form of Roasted Tomato Basil Savory Oatmeal. If you can't get enough, stock up on add-on heirloom tomatoes.
Have a delicious week!
---
This Week's Local Produce

All of the fruits and vegetables we deliver are grown without synthetic pesticides and are USDA certified organic. Interested in receiving produce that's both organic and locally sourced all year round? Check out our Local Dogma Box.
Similar to a CSA or farm share, our Local Dogma Box is filled with the best organic produce from local and regional farms and brought right to your door each week. It's the easiest way to eat like a locavore!