All the snow we've gotten in the last couple of weeks has us looking at things in a new way. Snow-covered streets seem suddenly different, and the landscape keeps shifting as the snow melts, revealing things that were buried. As snow piled up, or got packed down into slippery ice, reliable paths suddenly seem strange. This shift in perspective can help us recognize what we usually take for granted, and look at them in a new light. This week, we are looking at things sideways and reconsidering familiar foods.
That's Bananas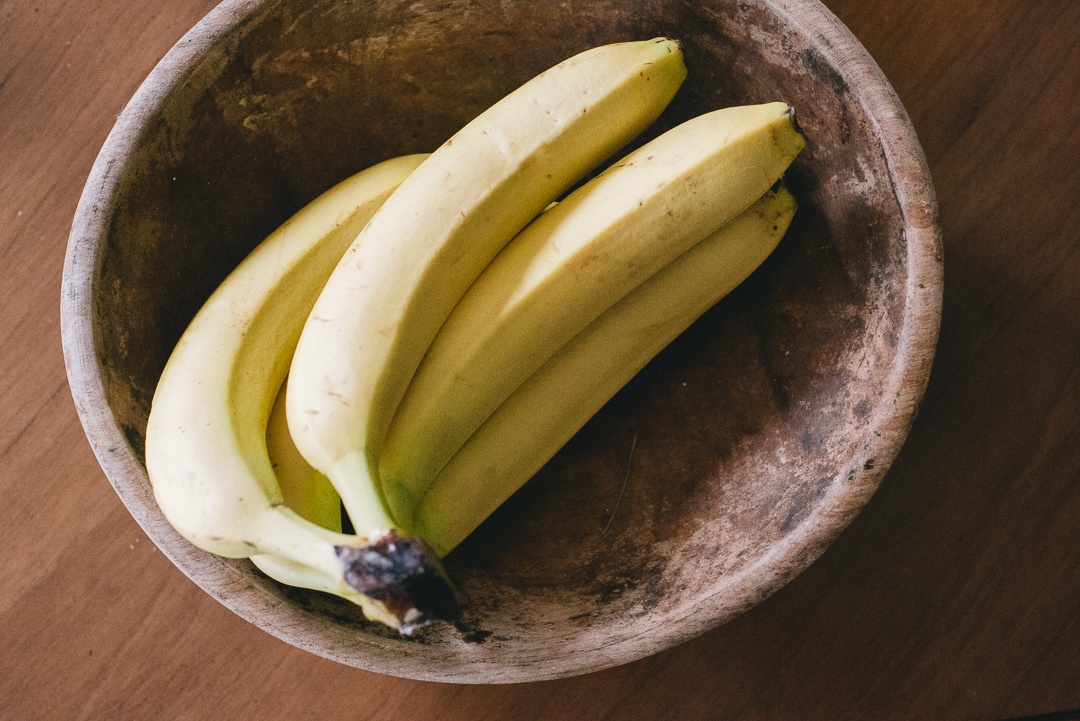 Bananas are ubiquitous, but did you know that they are the top-consumed fruit in the United States, well higher than apples and oranges combined? These cheery yellow fruits may be common, but there are quite a few facts about them that are anything but. Banana plants are not trees, but instead are closely related to orchids. Though hundreds of banana varieties are grown, the banana commonly found for sale in the US is the Cavendish banana. All Cavendish banana plants are clones of each other, making them especially susceptible to widespread disease.
Bananas' popularity derives from their sweet flavor and satisfying, starchy texture, not to mention their nutritional value. While bananas are best known for their high potassium content, they are also a good source of many vital nutrients (including vitamin C, vitamin B6, and manganese). Enjoy them raw as a healthy snack, or stuff them with chocolate chips and other goodies, then warm them in the oven or over a fire for a surprisingly simple and delicious treat. This is an especially useful trick when you have a bunch of bananas that are all ready to be eaten right now. Give everyone in the family a whole banana to top as desired.
Baller REcipes
Trying new recipes is a great way to shift your perspective and kick start new habits. Stretch your imagination by trying recipes that aren't quite what they seem. These delicious meatballs have a tricky secret – they don't contain any meat! Mix zucchini and mushrooms for a hearty and filling way to bring vegetables to the center of the plate.
The snow on the ground outside may also help foster a deeper appreciation for the farmers who continue to bring us gorgeous produce throughout this season, particularly the basil and shitake mushrooms featured in the recipe above. These fresh ingredients are grown indoors at Happy Valley Organics and Mousam Valley Mushrooms respectively.
Let the Sun Shine In
After the snow of the last couple of weeks, the weather is expected to be quite warm. As the snow melts into a gray, slushy mess, embrace vibrant color with meals made with fresh, organic produce. Sweet, tangy citrus from sunnier states has helped brighten our boxes all winter long. Like bananas, citrus is divine eaten by itself. Let it brighten your dinners with recipes like this Orange Ginger Tofu. If you think you might need a reminder to not gobble down all the delicious oranges in your box this week, check out our tips for organizing your box and making meal plans that will help you make the most of your box.
Everything seems sunnier when you've had a good breakfast. Make sure you have all you need to start every day of the week off on the right foot with our new Breakfast Kit.
Have a delicious week!
---
This Week's Local Produce

All of the fruits and vegetables we deliver are grown without synthetic pesticides and are USDA certified organic. Interested in receiving produce that's both organic and locally sourced all year round? Check out our Local Dogma Box.
Similar to a CSA or farm share, our Local Dogma Box is filled with the best organic produce from local and regional farms and brought right to your door each week. It's the easiest way to eat like a locavore!