Cold nights and warmer days mark the season for maple sugaring. Though we may be ready for sun and warmth, this transitional time is also a delicious one, with plenty of sweetness from the free-flowing sap, and exciting new shoots starting to make their appearance.

Make it Maple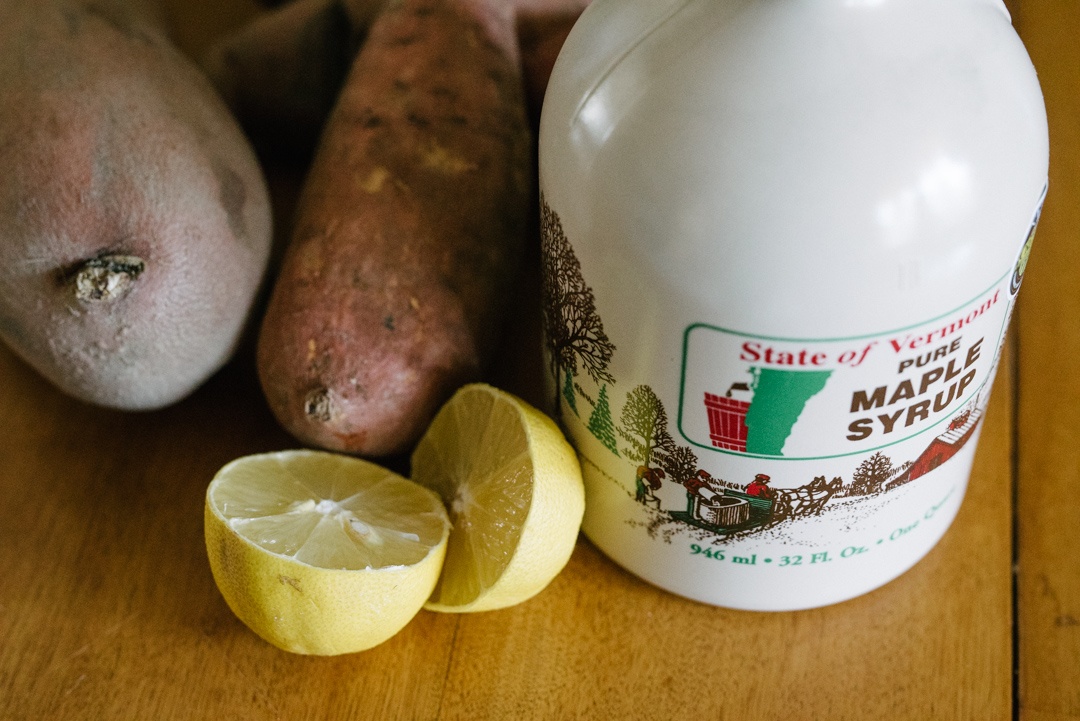 Warm(er) days and cold nights mark the height of maple sugaring season. The trees store sugars during the winter. When the days start to get warmer, sap begins to run in the maple trees during the day. Moisture is drawn back into the trees when the temperature drops at night, allowing sap to flow freely again when the temperatures rise the next day. The sap is harvested by inserting taps into the trees and catching the flowing sap in buckets. The sap is then boiled down into syrup. We are lucky to have a direct source of delicious, pure maple syrup in Dwight Miller and Sons Orchard of Dummerston, Vermont.
Unlike "pancake syrup," which is usually just artificially colored high fructose corn syrup, natural maple syrup has a high concentration of minerals and antioxidants, which makes it much healthier than other sweeteners by almost any metric. Also, pure maple syrup has a lower glycemic index than other sugars, which means it breaks down over a longer stretch of time and will keep you fueled throughout the day. We don't specifically endorse it, but some cyclists and marathon runners will even down a shot of maple syrup before a big race.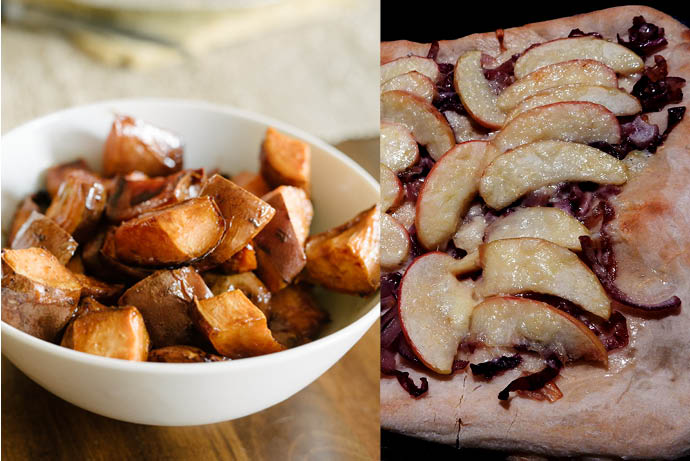 Maple syrup isn't just for pancakes and waffles anymore. Use it to sweeten your coffee and tea or use it to replace refined sugar in almost any baked good, but remember to add a 1/2 cup less of water to the recipe for every 1 cup of maple syrup you use. Pure maple syrup should be stored in your fridge once it's opened. Supposedly, it can last there for several months, but it always gets eaten too quickly for us to find out for sure.
You can also use maple syrup to brighten savory dishes, like Maple-Roasted Sweet Potatoes. Embrace the full spirit of Vermont with this unique pizza.
Spring shoots
Asparagus, that bright green harbinger of spring, can be found in boxes and as an add-on this week. Asparagus is a pretty cool plant. While many plants grow from a stalk, vine, or branch, asparagus spears grow individually right out of the ground. Asparagus plants can set roots and live up to 20 years in one spot, producing edible shoots throughout their entire lifespan. To learn more about asparagus, check out our blog.
Roasting asparagus in olive oil or lightly steaming it are classic preparations to highlight asparagus' unique, fresh flavor. And if you can't wait to fire up the barbeque, asparagus is also delicious grilled. This weekend, add asparagus to your brunch spread with this recipe for Asparagus, Spinach and Feta Quiche.
You'll find other shoots in your box this week in the form of crunchy, refreshing bean sprouts from Jonathan's. These tiny white stalks are the beginnings of Mung bean plants. They have a mild flavor and delightful, watery crunch. Mung bean sprouts' simple appearance—white stems and pale yellow leaves—masks their impressive nutritional value; they are rich in Vitamin K, Vitamin C, iron and potassium. For a simple way to enjoy these crunchy sprouts, we like to stir fry them with garlic and spices.
Have a delicious week!
---
This Week's Local Produce

All of the fruits and vegetables we deliver are grown without synthetic pesticides and are USDA certified organic. Interested in receiving produce that's both organic and locally sourced all year round? Check out our Local Dogma Box.
Similar to a CSA or farm share, our Local Dogma Box is filled with the best organic produce from local and regional farms and brought right to your door each week. It's the easiest way to eat like a locavore!