Earth Day is this Saturday, April 22. There are lots of great ways that you can help support our environment this week and beyond. Throughout the week, don't forget one of the big ways that you demonstrate your commitment to sustainability: your Boston Organics box. By choosing to buy organic, you say no to polluting synthetic pesticides and fertilizers and yes to farming practices that help promote soil and environmental health while keeping carbon in the soil. Keep yourself nourished as you take some extra steps in the spirit of Earth Day, and enjoy the bounty of your box and the planet.

Take action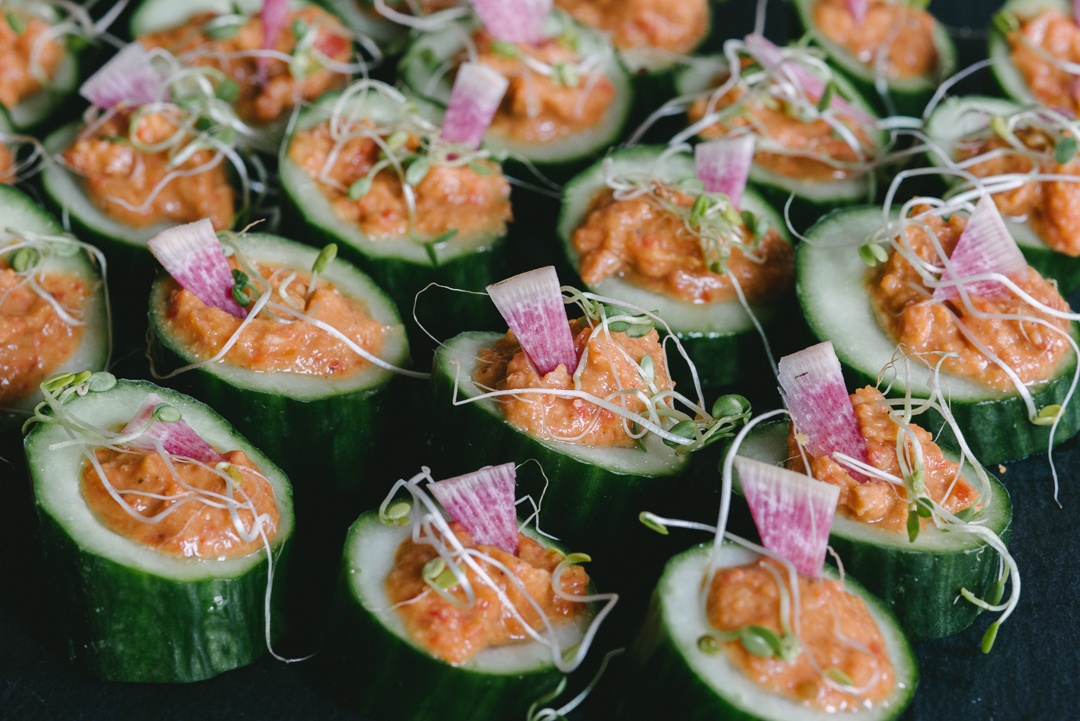 There's a lot of work to be done to help protect and preserve our environment. Some of those actions are at a local scale, such as helping to keep green spaces in Boston free of litter. This year's annual Charles River clean-up, hosted by the Charles River Watershed Association, will be held on Saturday, April 29.
Other actions may have a more national focus, like joining in the March for Science at the Boston Common on Saturday. The nonpartisan march celebrates sharing and understanding scientific knowledge as central to the health and safety of humans. Ensuring the health of our environment is closely tied to scientific inquiry that fearlessly explores any potential harmful impacts of pollutants, from synthetic pesticides and fertilizers to methane and other waste produced by massive animal feeding operations.
Regardless of how you stand up for the natural world, you're sure to need some nourishment. These refreshing cucumber cups filled with red pepper hummus are sure to help replenish you so that you can keep enjoying all that the outdoors has to offer. Plus, these delicious snacks are plant-based, making them easier on the world's resources.
waste not
Food waste is a significant contributor to greenhouse gas emissions. Limit your food waste by shopping strategically, meal planning and keeping track of leftovers. There are also lots of fun ways to use up food scraps, from using them to grow new plants to saving them up to make a flavorful kitchen scrap broth. This broth is a great base for vegetable soups like this Carrot-Parsnip Soup with Sunchoke Chips. A savory bowl of this soup will be extra delicious when made with carrots and parsnips from Red Fire Farm, and sunchokes from Deep Root Organic Coop.
Get outside

For some, the most meaningful way to celebrate Earth Day is to get outside and enjoy nature. And there are tons of beautiful places where you can get out and play close to Boston: go for a hike in the Blue Hills or Middlesex Fells, take the orange line to the Arboretum or the red line to Southie's beaches, bike along the Neponset River trail in Dorchester or ride the Minuteman Bike Path out to Concord.
One of our favorite ways to get outside is to pack a picnic and take it to a park, like the Esplanade. These Plum, Pepper and Jack Bites are a delicious take-along picnic component (some assembly required after you've laid out your blanket).
And what's a celebration without cake? Revel in the warming weather and joy of the changing seasons with a Rhubarb Lemon Bundt Cake. The first rhubarb of the season is available as an add-on, so you can enjoy this seasonal treat, and maybe even put some away for later.
Have a delicious week!
---
This Week's Local Produce

All of the fruits and vegetables we deliver are grown without synthetic pesticides and are USDA certified organic. Interested in receiving produce that's both organic and locally sourced all year round? Check out our Local Dogma Box.
Similar to a CSA or farm share, our Local Dogma Box is filled with the best organic produce from local and regional farms and brought right to your door each week. It's the easiest way to eat like a locavore!