Boston Organics is rolling out the royal treatment this week, as we do every week for our customers. The boxes will be filled with treasure from Golden Kiwis to Tiara Cabbages with lots of ruby red strawberries and sapphire-colored blueberries. With your scepter of asparagus grown by Pedersen Farms and an array of regal produce, including celery from Queen's Greens Farm you will be prepared to rule your kitchen kingdom in delicious style.
The Golden Fruit
There are some immediate differences when looking at a golden kiwi and a normal or green kiwi. First the outer skin is thinner and far less fuzzy on a golden kiwi. The differences don't stop at the skin though, upon cutting one open the name for the fruit becomes apparent as the flesh is a golden yellow color. Once you take a bite of this fruit you will not taste the same tartness of a green kiwi but rather a more tropical flavor. Golden kiwis are an office favorite, and we like to eat them by cutting them in half and scooping out the inside with a spoon. However, the skin is certainly edible if you want to slice them up and eat the whole fruit.
Farming Royalty

Send out the decree, celery is returning to boxes this week from one of our great farm partners Queen's Greens Farm. This celery is going to have a slightly different appearance, having smaller stalks and having more leaves at the top. One great recipe for a refreshing summer salad is Crispy Celery Salad. This is a great side dish at your next banquet and is a great way to use the flavorful leaves of the celery. In addition, this is a wonderful use of the fresh mint that will be in boxes this week from Happy Valley Organics. Based in Whately, MA, Happy Valley brings us a fresh variety of herbs on a weekly basis.
Royal Accessories
The Tiara Cabbage is a hybrid variety of green cabbage and is smaller in size. It can be made into tasty coleslaw or is also great for cooking. We aren't going to call this the crown jewel of the cabbage family but we are very excited that it is coming to us from Kitchen Garden Farm.
If you did not get a chance to order asparagus last week now is your chance to try this special treat from Pedersen Farm in New York. It has a very short growing season and we are glad that we are able to offer this item, even if only for two weeks so include it in your box this week before it is gone.
Crown Jewels
Berry season is here and we certainly think that they are fit for a king or queen. This week we continue to see more strawberries and blueberries make it into the different boxes types so keep an eye out for what is coming in your box by checking out What's In This Week's Box? If you don't see the berries you are looking for or just want to order more head over to our grocery add-on section. We found a great recipe that incorporates berries for a twist of the usual fruit salad: Quinoa Fruit Salad. This is a great option for breakfast that won't leave you tired and feeling like a jester as the day goes on.
sPIRAL sCAPES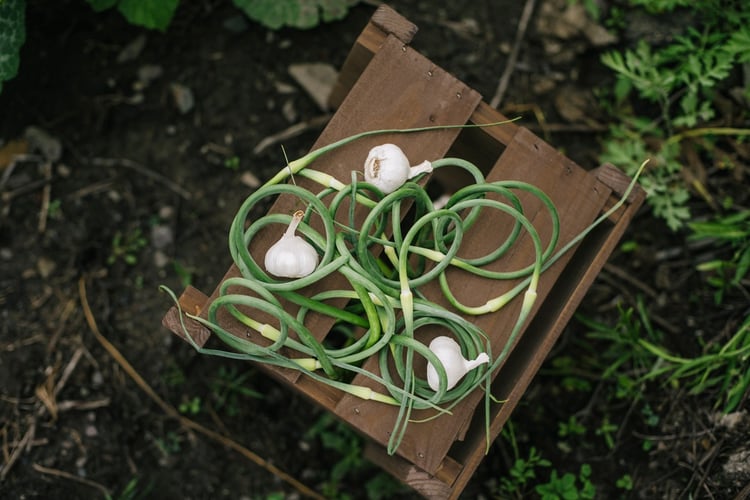 Sometimes referred to as serpent garlic, the curly green item you may see in your box this week is garlic scapes. Garlic is not a flowering vegetable but it does produce a curly green shoot that makes its way above ground as the garlic plant is growing. This is the garlic scape that can be harvested for a brief period of time as the growing process is getting started. This bright green stem of a garlic plant is extremely adaptable and can be used in a myriad of ways. One excellent way to use scapes is to make pesto. You can even make sure to eat your greens by making scape pesto with chard as well.
Have a delicious week!
---
This Week's Local Produce

All of the fruits and vegetables we deliver are grown without synthetic pesticides and are USDA certified organic. Interested in receiving produce that's both organic and locally sourced all year round? Check out our Local Dogma Box.