As we all celebrate the 4th of July there is also a lot of local produce to celebrate in your Boston Organics box this week. We continue to offer more and more local produce as it becomes available to us so keep an eye out for new local items to include in your custom box or add to your mixed produce delivery.. During the summer it would be easy to fill your custom box with local produce and any add on you might need. We hope that everyone has a happy and safe holiday and enjoys some time off with family and friends.
Radical Radishes
One item you might see exploding out of your box this week like a firework is bunched radishes from Atlas Farm. These red radishes are very fitting in color for this week and their flavor is as bright as their color. Radishes have a crisp and peppery taste that can be very refreshing on a hot summer's day. One great recipe to bring to the next BBQ is this Radish and Cucumber Salad. This is very simple to prepare and will sure to be a hit with fresh local radishes and cucumbers.
Cool as a cucumber

Speaking of cucumbers, this week will be the first week of local cucumbers, grown by Kitchen Garden Farms. These will be perfect to make into homemade pickles or just raw on a salad. Cucumbers can also be a great addition to lemonade or summer cocktails. One simple idea is to put a couple of cucumber slices in a pitcher or glass of water to provide an extra burst of refreshment.
Sparkling stone fruit
Having a busy week with family and friends and not sure what to make but want to try something new? Give this Toasted Polenta Cake with Glazed Stone Fruit a shot. Grilling stone fruit is a wonderful way to get a new flavor out of a fruit that people are familiar with but may not have ever prepared this way. This recipe will leave your taste buds sparkling like the firework show wherever you are celebrating the holiday.
Splendid summer squash
Summer squash continues to roll in from local farms in Massachusetts and we couldn't be happier. You never know what colors or shapes you might see show up in your box but you know that the flavor will be amazing. One recipe that we think is a hit and would recommend is Roasted Summer Squash and Fennel with Thyme. With fennel from Kitchen Garden Farms, this recipe is truly a local treat.
Dazzling Dandelions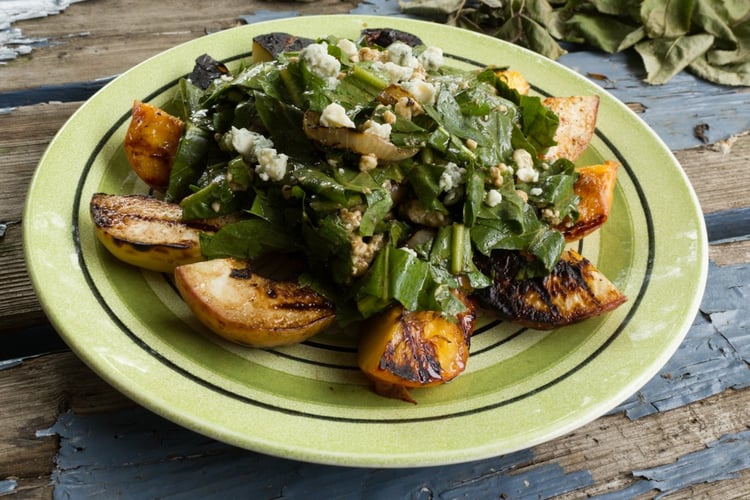 Over the summer we will see a lot of different local greens from our farm partners. There are different varieties of kale, chard and lettuce. This week is the first time this season we will receive dandelion greens. These bitter greens have extensive health benefits that make them a must-try this summer if you haven't done so before. They are packed with antioxidants and vitamins; they are more than a garden variety green. Give Grilled Peaches, Gorgonzola and Dandelion Greens a try as another way to try dandelion greens and stone fruit on the grill.
Happy 4th of July and have a delicious week!
---
This Week's Local Produce

All of the fruits and vegetables we deliver are grown without synthetic pesticides and are USDA certified organic. Interested in receiving produce that's both organic and locally sourced all year round? Check out our Local Dogma Box.