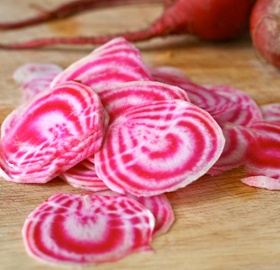 We've scoured the internet for the hottest food trends for 2019.
Celtuce and Georgian cuisine are two of the more unique predictions.
Whereas oat milk, CBD infused products, eco-friendly packaging and meatless meats appeared on most lists.
The Nation's Restaurant News predicts that sea vegetables and beets will be big. Lager beer will have it's day, but cold brew will be passé.
Studio Bordewijk in the Netherlands has mushrooms making their top six list.
Self magazine boldly predicts orange wine will be huge (because it's very photogenic for Instagram) and that tahini will be the nut butter of 2019.
One of our personal favorites is from world renown chef and co-creator of the Master of Liberal Arts in Gastronomy at BU, Jacques Pépin. Jacques predicts that in 2019, "people will be less afraid to dig in and cook."
For the naysayers, this list predicts that Flamin' Hot Cheetos and activated charcoal have lost their hype. Say it aint so.
At the end of the day, at Boston Organics, we believe that eating and cooking real, whole foods that are grown and produced in a way that is not harmful to the environment is the best trend of all.
We wish you all a happy, healthy and sustainable 2019!