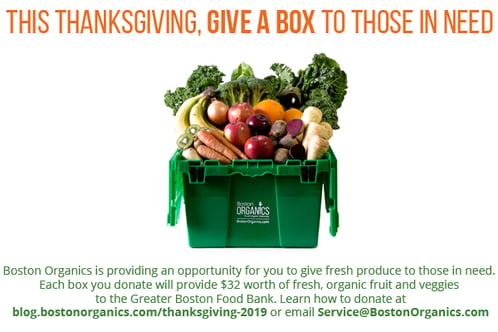 This Thanksgiving, Boston Organics is providing an opportunity for you to give fresh produce to those in need.
Each box you donate will provide $32 worth of fresh, organic fruits and vegetables to the Greater Boston Food Bank. The Food Bank will distribute these goods to families in our communities.
HOW TO donate a box
1. Log in and go to the Donations Category within Add-On Groceries.
2. Add item Box Donation to your cart. You can donate as many boxes as you'd like!
3. Confirm and update your subscription.
4. You'll be billed within 2 business days for the donation. Any other add-ons in your cart will be added to your next delivery and billed per your usual time frame.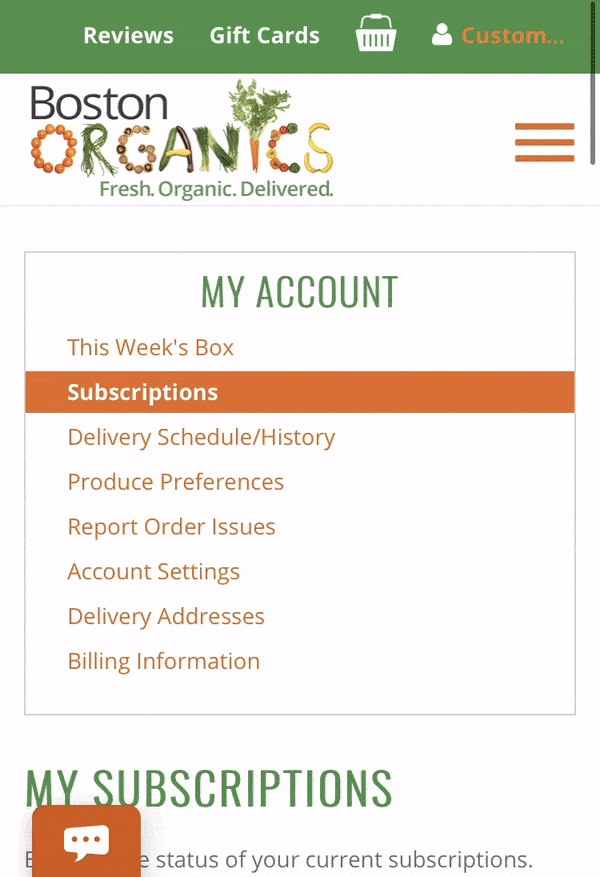 Whether you're planning to get a delivery Thanksgiving week, cancelling that week, or not scheduled for a delivery, you can still donate a box! We'll be accepting donations until 12:00 pm on Wednesday, November 27, 2019.
Please note that donating a box does not automatically skip your delivery. View the adjusted holiday schedule. Thank you for your generous support!
*Because we are not a qualified organization as defined by the IRS, the donation will not be tax deductible.