Oranges are a delicious, portable snack. Opening the peel releases a burst of fresh scent, causing mouths to water several cubicles away. As juicy and delicious as they are, it's easy to forget that they have a plethora of other purposes. So just for fun, we've dreamed up six silly uses for an orange in the office.

1. Massage Tool
Sometimes you just need a break. Your neck is stiff from looking at the computer screen, and you're carrying tension in your shoulders as you put the finishing touches on a financial report or presentation slide. Reach for a trusty orange. Lean against the wall and put the orange between the wall and your shoulder blades. Roll the orange around your neck and shoulders for instant relief. If you need to just keep plugging, put the orange on the floor and roll your foot over it for a lovely foot release.

2. Stress Ball
If the massage didn't quite do the trick, and you still have some anxious energy to burn, let an orange come to the rescue once again. Oranges make excellent stress balls. Press a large orange between your two palms, put on your best exertion grimace (or a pair of goggles – we wouldn't want any juice to get in your eyes!) and squeeze. The best part is that after you've channeled all your stress, you can sit back and enjoy a glass of juice. Just be sure to squeeze over a bowl or glass.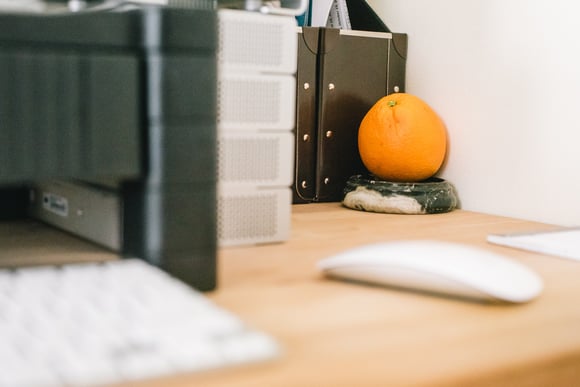 3. Office Humidity Monitoring
The air in a well-heated office can get awfully dry in the wintertime. To test whether yours might need a humidifier, place an orange on a plate in a dusty back corner of your desk. Leave it undisturbed for a couple of weeks. If it emerges dry and shriveled, it may be time to bust out the eye drops and hand lotion.

4. Orange Smiles
Add some levity to your Wednesdays with orange smiles. Think of how much more sincerely joyful feeling will permeate the office when everyone greets each other with mouths full of citrus rind. Communication is bound to improve as well.
And because you're enjoying an organic orange, you're not getting any synthetic pesticides from the skin on your lips. Bonus!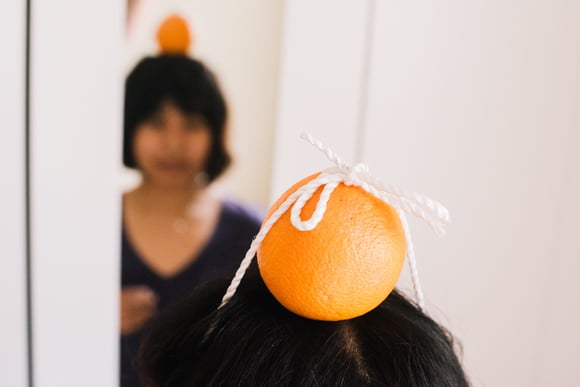 5. Personal Health Guards
Everyone knows oranges are chock-full of vitamin C, commonly thought to improve immunity—just what the doctor ordered for a healthy office, no?! Tie an orange to the top of your head to create your own immunity bubble. Uncovered sneezes? No problem. Explosive coughing? Gotcha covered. (Okay, admittedly, that last suggestion has no medical merit. We just wanted to see if you'd do it.)
Instead, we suggest placing a citrus to stand sentinel at the edge of your desk space. In addition to warding off bad vibes, having a little ball of bliss from the Sunshine State in close proximity will help dispel any seasonal blues.

6. Cubicle Mate
It's a lonely Wednesday. No meetings. No calls. What better way to keep yourself motivated through the afternoon than with an orange friend? Draw or carve a face out on the peel of an orange, position it on top of your computer tower, and chat away. Orange friends are great for bouncing ideas around, and always lend a sympathetic ear.
However you decide to use them, ensure that your office always has oranges and other organic fruit on hand by signing up for Boston Organics delivery.