While sweet potatoes figure prominently in many Thanksgiving feasts, they may be forgotten once the holiday seasons have passed. But sweet potatoes are some of the healthiest and most versatile vegetables available during the winter, so it should be no surprise that they're showing up frequently in New England winter cooking.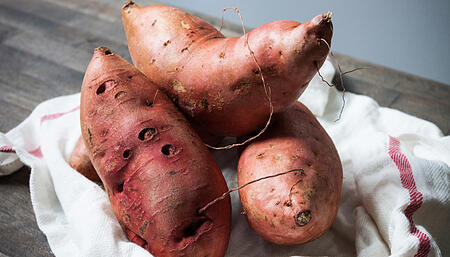 One baked sweet potato contains more than two times your recommended daily allowance of Vitamin A, a third of your recommended Vitamin C and only 140 calories. Sweet potatoes are also naturally fat free and cholesterol free; making them a healthier alternative to regular potatoes.
In fact, sweet potatoes, which thrive in hot, tropical climates, are only very distantly related to the traditional Irish potato. Columbus brought sweet potatoes back from the West Indies well before Europeans discovered Irish potato in the Andes Mountains.
Sweet potatoes are also entirely botanically different from yams, even though the names are often (mistakenly) used interchangeably. While sweet potatoes are the edible roots of a morning glory flower, yams are technically a tuber like the Irish potato. Yams also have rough, scaly skin and contain significantly less Vitamin A than a sweet potato.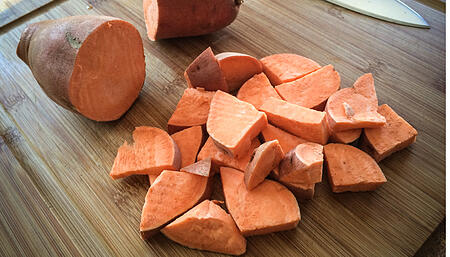 While American farmers grow 1.25 million tons of sweet potatoes each year, yams are rarely grown commercially in the United States and are almost never seen on grocery store shelves. North Carolina is responsible for well over one third of all sweet potato production in the US, but the farmers in our network of New England organic farms grow a sizable harvest every fall and winter.
If you were to eat a freshly harvested sweet potato, you might be surprised by its bland flavor. Sweet potatoes are generally cured in a hot, high humidity room for several days after harvest to increase their shelf life and prompt the sweet potatoes to release an enzyme which converts the roots' starches into sugars.
This process is put into overdrive when you cook a sweet potato, heightening its flavor to the point of perfection. Sweet potatoes can be boiled, steamed, baked, roasted, microwaved and mashed. They can be used in side dishes, soups, entrees and even baby food.
The possibilities are endless, but here are 4 of our favorite ways to eat sweet potatoes. Click on the photos below to get the recipes:
| | |
| --- | --- |
| | |
| Sweet Potato Soufflé | Sweet Potatoes, Apples and Braising Greens |
| | |
| Sweet Potato Fries with Fried Sage | Jeff's Famous Sweet Potato Quinoa Black Bean Burgers |