The kids are headed back to school and that means a return to the weekday morning scramble. Don't worry. We're here to help. We can't sign your kids' permission slips or slather sunscreen on their faces, but we've got an assortment of snacks that are perfect for lunches or an afterschool energy boost.
Kids Snacks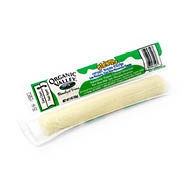 Organic Valley String Cheese is our most popular snack, because who doesn't love string cheese? Kids love them because they're delicious and fun to eat. Parents love them because they're easy to grab as you're running out the door. We sell string cheese in packs of five or by the stick.
Another convenient grab-and-go snack is Annie's Fruit Snacks, which also come in packs of 5 or single servings. They're vegan, gluten-free and made with real fruit juice.
Late July Organic Mini Crackers come in two flavors – organic white cheddar cheese or peanut butter. They're perfect for on-the-go snacking and available in packs of five or by the serving.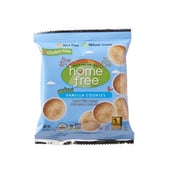 Cookies are a sometimes food. If you're looking to pack your favorite student a sweet treat, we suggest HomeFree Vanilla Mini-Cookies, which are made from gluten free oat flour, organic evaporated cane juice and pure vanilla extract. Carefully baked in an allergen-free kitchen, they're also vegan and totally delicious.
Some of our snacks come in bar form. Cascadian Farm Organic Granola Bars have just enough sweetness to allow the rich chocolate chips and wholesome ingredients to take center stage. All of Cascadian Farm's snack bars use certified organic ingredients and no artificial flavors or preservatives.
Another bar of note: Equal Exchange's Organic Mango and Cashew Bar is a delicious snack made from cashews, dates and dried mangoes, with no added sugar or preservatives.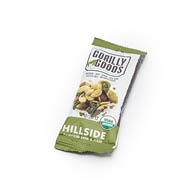 Finally, Gorilly Goods has a great selection of trail mix type snacks that are inventive and filling. Flavors include pumpkin seeds, hemp and cilantro; curry cashews and dried fruit; and pumpkin seeds and crisply kale.
Snack Kits
Grownups need snacks, too. We offer a selection of snack kits that will ensure your desk remains fully stocked.
Afternoon Snack Kit
1 Gorilly Goods Baja
1 Gorilly Goods Coast
1 Gorilly Goods Hillside
1 Gorilly Goods Trail
2 Lesser Evil Organic Snacking Popcorn - Classic Cheddar
1 Hippeas White Cheddar Puff
1 Hippeas Pepper Power Puff
Large Kit
2 Cascadian Farm Organic Granola Bars - Chewy Chocolate Chip (6 bars)
8 Late July Organic Mini Crackers - Cheddar Cheese
8 Late July Organic Mini Crackers - Peanut Butter
7 Lesser Evil Organic Snacking Popcorn - Classic Cheddar
12 Annie's Berry Patch Organic Bunny Fruit Snacks
Small Kit
1 Cascadian Farm Organic Granola Bars - Chewy Chocolate Chip (6 bars)
5 Lesser Evil Organic Snacking Popcorn - Classic Cheddar
5 Annie's Berry Patch Organic Bunny Fruit Snacks
5 Late July Organic Mini Crackers - Cheddar Cheese
5 Late July Organic Mini Crackers - Peanut Butter