Beans are high in protein making them a popular food for vegetarian and vegan diets. But you don't have to be a herbivore to enjoy these nutrient rich legumes that lend themselves to all kinds of wonderful dishes. And we've got a terrific new local source (ME) for heirloom beans, Baer's Best.
For the past three decades Charley and Carol Baer have been specializing in heirloom bean varieties that have grown here in the Northeast since colonial days. Many years ago beans were a New England staple and some local people may remember the traditional Saturday night meal of baked beans and brown bread. Now many people are rediscovering the benefits and pleasures of having beans as a regular part of their diet and finding new ways to enjoy these specialty beans.
Learn more here about the health benefits and how to cook dried beans!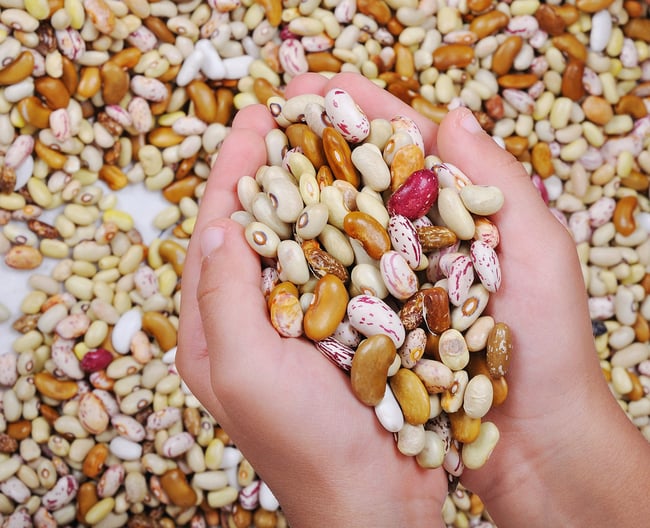 Nutritional value
Beans are a good source of B vitamins, potassium, and fiber, which promotes digestive health. Eating beans may help prevent colon cancer, and reduce blood cholesterol (a leading cause of heart disease). (WebMD)
how to cook beans
Thanks to Bon Appetit and Epicurious for the bean tips.
1. Soak your beans
Soak your beans in overnight in the refrigerator in salted water - 1.5 Tbsp salt to two quarts of water. The dried beans will re-hydrate making them larger. More importantly, soaking will make them cook faster, more evenly and start the seasoning process.
If you're jumping on the bean wagon at the last minute then just skip this step and move on. Or do a quick soak: Put the beans into a pot, cover them with salted water, bring them up to a boil, and then cover the pot and turn off the heat. Let them sit for at least a half an hour in the hot water, drain, and go from there.
2. Low and slow - Simmer
Drain the re-hydrated beans from the majority of the water (exact amount of water remaining doesn't matter. At least 2 inches in the pot). Lightly season the water with salt, about a tsp. Add aromatics like: peeled garlic, halved onion or shallot or leek, a celery stalk, a carrot or all of the above. Throw in some fresh herbs like celery leaves or parsley or oregano or thyme or sage or rosemary or a combination and a bay leaf or two.
Bring the beans to a boil, lightly cover and then reduce to a simmer for the remainder of the cooking. Or cover and place in 275 degree oven. Simmering can take 1-2 hours (soaked beans will cook more quickly). Check beans after 45 minutes for the taste and mouth-feel you like!
Rushing the cooking process will result in beans that are unevenly cooked.
3. Best Practices
For the best flavor refrigerate your beans over night in the bean broth before using in your favorite recipe. Cook a large pot of beans (like the entire one pound package) and freeze any extras in portion sized containers leaving one inch of headroom for expansion, that way you'll be ready to throw them in a salad, or pasta or soup or make a bean dip at the last minute!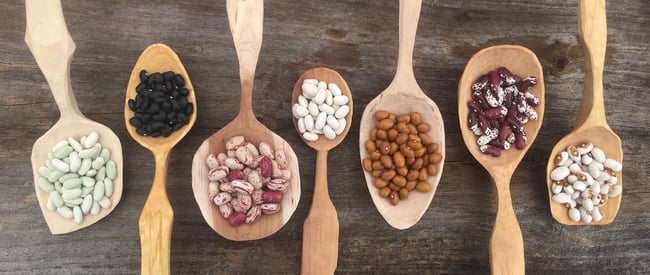 Black Turtle Beans
Black beans are popular for their slightly sweet earthy flavor and rich texture and are found commonly in the cuisines of Latin America. Their dark skin is loaded with more antioxidants than any other bean. Recipe to try: Black Bean Soup with Greens.
Cannellini Beans
Cannellini beans have a delicate flavor and silky smooth texture. Mild, nutty, and versatile, they pair well with both subtle and bold flavors. They are popular in Italian, Greek and French cuisines. Try in a salad, mashed with garlic and olive oil, or as the backbone of a hearty vegetable stew. It's hard to go wrong! Recipe to try: Pasta e Fagioli.
Great Northern Beans
A popular white bean commonly grown in midwestern and plains states, Great Northern are larger and flatter than Navy beans and hold their shape a bit better when cooked. They have a mild nutty flavor and starchy texture, somewhat like a kidney bean. Can we used interchangeably with Navy beans in dishes like Boston Baked Beans. Recipe to try: Bruschetta with Smashed Beans, Sage and Kale.
Italian Cranberry Beans
Cranberry is an odd name for this lovely, versatile bean aka Borlotti beans. The beans are large and tan with maroon stripes and specks. They hold their shape well when cooked and are prized for both their versatility and beautiful patterning. Recipe try: Cooked Cranberry beans with poached chicken pieces, drizzled with your best fruity olive oil. Simple and sublime! Or Mixed Beans and Winter Squash Soup with Basil.
Light Red Kidney
This tried and true staple needs no introduction. Its smooth but firm texture holds up well to long cooking, making it popular for a wide variety of bean dishes around the world. Classic in chilis, bean stews and red beans and rice. Recipe to try: Collards Stuffed with Red Beans and Rice.
Otebo Beans
Otebo are small white beans that resemble a slightly plump navy bean. A special bean type grown mainly for export to Japan, they've been bred for an exceptionally fine texture and mild sweet flavor. Traditionally used to a sweet bean paste for Japanese desserts, they may also be used in any recipe that calls for navy beans. Their incredibly thin skin and small size makes them one of the fastest cooking beans. Can use in place of any white bean. Recipe to try: 3 Bean Salad with Dill, Summer Squash and White Bean Saute
Pinto Beans
The most widely grown and widely consumed bean in the country, Pinto needs little introduction. A mild earthy flavor, and somewhat dry but smooth texture, this high yielding and versatile bean can be used in a huge variety of dishes. One of its most popular uses, refried beans, remains our favorite. Recipe to try: Simmered Pinto Beans
Recipes
Test out your bean cooking skills on these recipes!
---
What's your favorite way to eat beans? Share in the comments below!