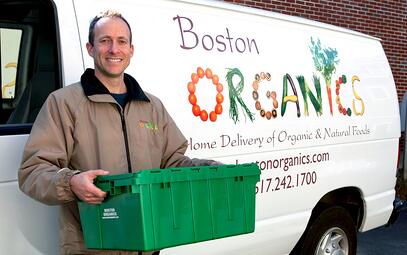 We all know going to the grocery store can be time consuming and sometimes expensive. Summer farmers markets and CSAs can be a great escape from the doldrums of the grocery store, but there is yet another option - home delivery services!
While many people view home delivery services as an indulgent expense, new studies are showing that home delivery services can help save time, money, and even greenhouse gas emissions!
Here are some great benefits of a home delivery service:
Save Money:
Know how much money you're spending on your food each week. By ordering ahead of time, you know what you're spending on food, which allows you to effectively budget for the rest of your expenses.
Cut down on impulse buying! It's hard to resist those extra goodies at the store, and those extra impulses can really add up over time. This infographic shows that 40% of consumer spending is impulse buying.
Save money on gas! A report from AAA shows that gas prices are on the rise!
Save Time:
Your groceries arrive at home while you work, so you have everything ready as soon as you get home.
Spend less time at the grocery store shopping. This leaves more time for cooking, relaxing, and doing the things you love!
Most home delivery services allow you to order online and manage your account right from the comfort of your home.
When you do go to the store, you can just focus on the basics. This will help grocery trips become more focused and less frequent.
Save Gas and Reduce Your Carbon Footprint:
At Boston Organics, we cluster our routes by zip code and neighborhood for maximum efficiency. A study on grocery delivery found that clustered routes can produce 90 percent less CO2 than a random route.
As a home delivery service, our goal is to make it as easy as possible for you to enjoy fresh, healthy foods so you can save time and eat well! Read more about our clustered delivery area.