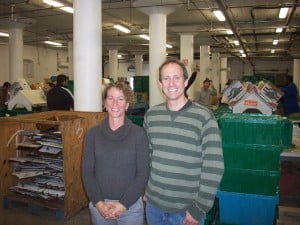 Sasha Purpura, Executive Director of Food For Free, and Jeff Barry, Boston Organics founder and owner, in our warehouse in 2012 to explain what they do and where our produce donations go each week.

A large part of our mission at Boston Organics is to provide better access to fresh, healthy foods. We want to highlight a key local partnership that helps make this possible.
Since 2005, we have worked with Food For Free to bridge the gap between our leftover produce and hungry people in our neighboring communities.
What is Food For Free?
The folks at Food For Free rescue fresh food that might otherwise go to waste and distribute it to the greater Boston community's most vulnerable populations. They distribute this leftover food to +100 programs including food pantries, meal programs, emergency shelters, hospitals and clinics, and youth programs in Cambridge, Somerville, and the Greater Boston Area.
In 2017, their produce rescue program collected and distributed over 2 million pounds of food! That's 1 million pounds of food – food that would otherwise go to waste – feeding 30,000 people in the greater Boston community.
Approximately 70% of the food Food For Free distributes is fresh produce (2012). By focusing on providing fresh, nutritious foods rather than junk foods, they are addressing not only short-term hunger, but diet-related disease and other long-term effects of food insecurity and poor nutrition.
Our partnership with Food For Free
Every Monday and Friday, Food For Free comes by our warehouse to pick up whatever produce we have left over from the previous week. In 2018, these weekly donations added up to a total donation of 31,744 pounds of produce to Food For Free.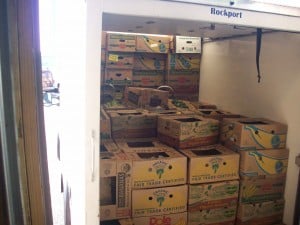 Where does our leftover produce go each week?
After Food For Free picks up leftover produce from our warehouse in Charlestown, the produce then makes its way to some of the following organizations (2012):
Haven from Hunger (Peabody) – A large percentage of our leftover produce goes to Haven from Hunger, an organization in Peabody that provides food to nearly 200 people a week.
Breakthrough Cambridge (Cambridge) – Some of our fruit donations are set aside for youth programs, including Breakthrough Cambridge. Through six years of intensive, tuition-free, out of school time programming, Breakthrough changes students' academic trajectories and supports them along the path to four-year college.
Gately Youth Center (Cambridge) – The Gately Youth Center offers homework assistance, healthy snacks, leadership development opportunities, sports leagues, arts, community service, and enrichment activities for Cambridge youth. Produce is often used for their cooking classes.
We're so thankful for the hard work that Food For Free and these other community programs are doing to bring healthy foods to the people in our communities who need it most. They are truly creating a more responsible and fair food system by 'bridging the gap between waste and want.'
To learn more about Food For Free and ways you can help, visit their website.