Celeriac might not be winning any beauty contests, but once you get past the other-worldly looks of this underdog root vegetable, you'll find a mild-tasting and fragrant interior that'll surely win you over.
Celeriac, or celery root, is a variety of celery grown specifically for its bulbous root, rather than its stalk. It can be eaten raw or cooked, and adds a terrific flavor to any dish that calls for root vegetables, like gratins, mashes and soups.
Beloved in Europe, celeriac has quite the pedigree. While celeriac made a cameo in Homer's Odyssey (referred to as selinon), it wasn't until the Middle Ages that it rose to fame, and later became a commonly cultivated food item by the late 1600s. Rumor has it that it was once popular in the United States during the times before refrigeration (due to its impressively long shelf life), but was edged out of the limelight by its more attractive cousin: stalk celery.
Historically known as a medicinal plant, celeriac is a great source of both vitamin C and phosphorous. Vitamin C is a natural antioxidant that helps control infections, improve immunity, and maintain healthy bones, teeth, and blood vessels. Phosphorous is an essential mineral that also plays a key role in bone health. One half-cup serving contains just 30 calories, zero fat and lots of dietary fiber.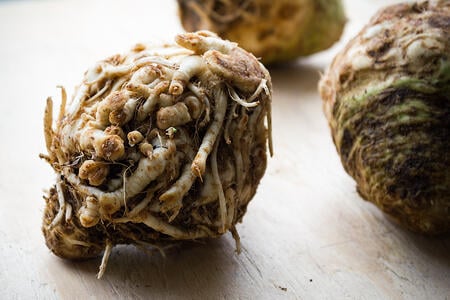 But most importantly, it tastes fantastic with a delicate celery-parsley flavor, and it's pretty versatile. Preparation is much less daunting than it looks. To peel the celery root, cut off the top and bottom, so that it stands on its own. Using a sharp chef's knife, slice off the knobby peel, starting at the top and following the contours of the root to the bottom. Then cut into equal sized chunks or slices. If you're not cooking them right away, place the pieces into a bowl of acidulated water to prevent browning. Celeriac can be boiled, roasted or steamed, just like other root veggies.
Want to give celeriac a shot? Try this tasty recipe for Celeriac Mushroom Torte or dig up more info on our Celeriac page.