I am taking the 21-Day Racial Equity Challenge. Each day I will be taking time with the prompts, and I will be sharing my reflections/thoughts. I encourage our audience to take this challenge with me to start your own self-reflection journey, start understanding and building empathy for people who are not like yourself, learn more about racial inequity in our food system, and ultimately learn how we can better support the Black people in our community.
If you feel comfortable, I encourage our audience to share your thoughts and reflections in the comments below. Our social media pages have several thousand followers, and I want to leverage our platforms as a space that encourages learning, that feels safe and inclusive. So here we go, let's dig in.
Click here to read the previous blog post.
I really enjoyed listening to Leah Penniman's presentation "Farming While Black". Leah is an author, activist, farmer and founder of Soul Fire Farm (NY). At the beginning of her presentation she thanks to her ancestors, her roots, that did something in their lifetime that ultimately benefited her. Leah also acknowledges that her farm is located on historically indigenous land (what indigenous people inhabited the land you're on) and continues to give back to that tribe/those people. I love that she acknowledges all of this because it's an awareness that your people aren't the main players or only players in history.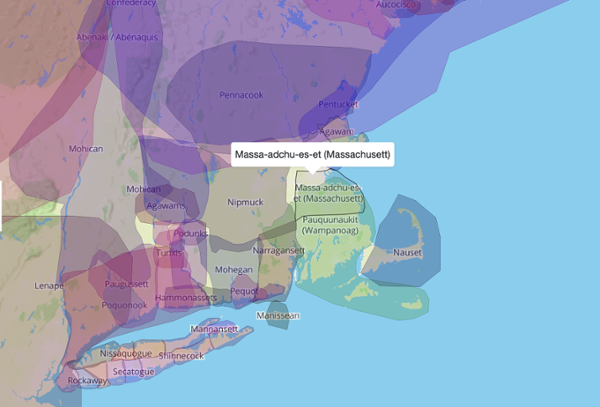 Screenshot of Boston and the Indigenous tribes that inhabited the land
To answer the prompt questions more specifically: yes I was acutely aware of the history of exploited labor in the agriculture industry, and because I work in grocery delivery now I'm more knowledgeable about the ways companies can support their workers. I've never been a delivery driver and have only read horror articles about delivery drivers not being covered by their employer's insurance because the driver is technically a third party. That's only one example, but I'm sure there are more articles floating out there. When I learned that Boston Organics employs our delivery drivers, at first I was like "So what?". But over time I learned that means our delivery drivers are insured (they can do their job and know that if an accident happens it's not coming out of their pocket), we're operating responsibly in the neighborhoods we service, our delivery drivers have livable wages, access to employee benefits (PTO, insurance), etc. In marketing if I make a mistake, I can usually edit blog posts or follow up emails, and it's great that my coworkers have the same piece of mind while executing their responsibilities.
Who else operates in our local food system? Add our free coloring book to your order.
Unrelated to the prompt but on my mind
Language is so important and words are powerful. Here are some that I recently learned the background and importance of:
"BIPOC" (Black, Indigenous, People of Color). BIPOC acknowledges that we're all minorities, been discriminated against, but they're distinct because it's important to know that the discrimination is different and the struggles are not the same. The term BIPOC brings minorities together in solidarity of each other's struggles.
"Model minority" which pits minorities against each other and supports the idea that white people/Western values are what everyone should strive to be. Different does not mean better or worse, good or bad.
"Enslaved" instead of using "slaves". This acknowledges that African people were stolen from their lands, the history of African people did not start in America in chains. A Youtuber that I watch walked us through a great graffiti timeline (kid friendly) of Africans in their homelands, their enslavement and their labor/bodies being exploited through the slave trade in America, and various Black people advocating/protesting for equal rights and policy change. Click here to see the video (timeline starts at 12:35).
---
Thank you for taking the time to read this blog post. Click here for more prompts, and click here for more resources. Feel free to share your own reflections and thoughts in the comments below. Please keep in mind that we are all lifelong learners, our experiences are all unique, and this is a safe-inclusive space.