The pandemic has been challenging to our community, but it hasn't all been bad. It's the resiliency, kindness, and empathy of Boston that inspires us all to give back.
Small businesses have adapted to curbside and home delivery. Individuals have created mutual aid funds to support neighbors as well as small businesses that have been struggling, and so much more.
At Boston Organics, we have had our challenges. A huge thank you to the whole B.O. Crew that has shown up every day to get the job done while remaining in high spirits and lifting each other up. Another huge thank you to our customers who have been patient while we adapt to the ever changing circumstances.
Thankfully we have been supported by so many wonderful individuals and businesses. And fortunately, we have been in the position to spread the love to others. Here's a run down of how we are helping to keep our local food system healthy and resilient during these extraordinary times....
Keeping our essential workers fueled
Since the pandemic started, Boston Organics' office deliveries slowed down as people transitioned to working remotely at home. While office staff can still enjoy our home deliveries at a discount, offices have shifted their fruit deliveries to donations! On a weekly basis, their fruit deliveries have been donated to essential workers and the food insecure (through our partnership with Food For Free). So far, they have donated over 200 deliveries to organizations like Mass. General Hospital, Eliot Community Health Services, Mass. Ear & Eye, New England Center & Home for Veterans, and more!
A huge thank you to the following offices that have contributed and continue to donate to essential workers and the food insecure: Numeric Investors LLC, Navem Partners, Pierce Atwood LLP, Scratch Foundation, TIFF Investment Management, Verde Farms and more.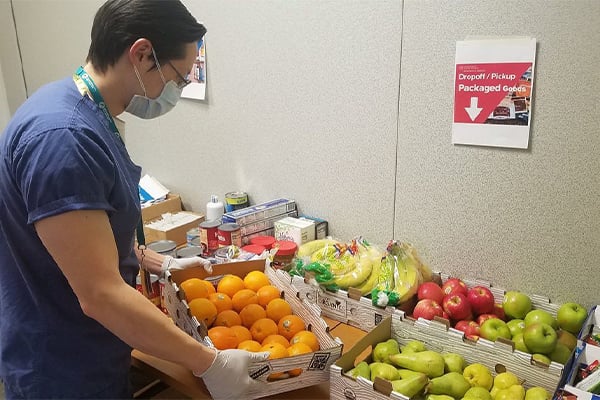 Fruit donation to Mass General Hospital essential workers (pic from MGH's cfpwb Facebook)
If your office is interested in donating, read more. If your office has donated and would like to be listed, please contact Marketing@Bostonorganics.com
Healthy snacks for volunteers
In April, we donated fruit to the volunteers at Charlestown Face Shield Project. All of the face shields were assembled by volunteers, and sent to essential workers. Some of the project's highlights:
Fabricated over 30,000 face shield made by volunteers

Donated to over 150 Medical Facilities in 12 States

Donated to every major Boston hospital and all major hospital networks in MA

Donated to some of the hardest hit NY locations and even The Navajo Nation

Assembled an all-volunteer team consisting of over 70 volunteers and 25 companies
The face shields (pic from CFSP Facebook)

The essential workers (pic from CFSP Facebook)




Part of the Charlestown Face Shield Project team (pic from CFSP Facebook)
Shelf stable items to Greater Boston Food Bank
During the height of the pandemic between March and May, 'panic buying' and the shutdown of the economy put the local food supply in constant fluctuation.
Amid the chaos, we harnessed the full power of the Boston Organics' community and organized a donation drive. Through customer and company donations, not only did we support food insecure families in our community, but also many of our local producers. We donated 3 pallets worth of shelf stable items to the Greater Boston Food Bank! Collectively, we donated the following items:
| | | |
| --- | --- | --- |
| | | |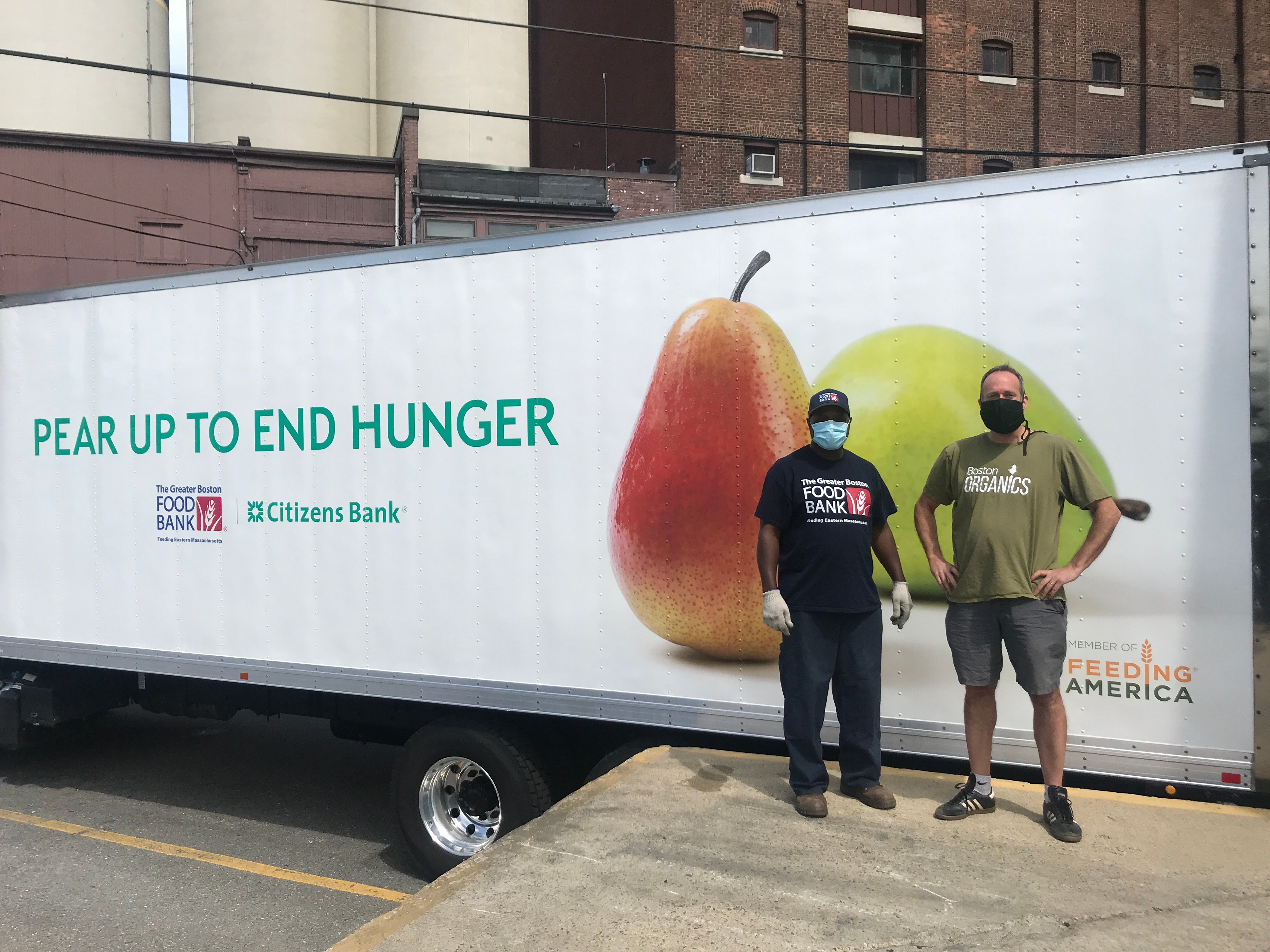 the start of virtual tips
We started accepting virtual tips! Our warehouse staff are often the unsung heroes starting their work day as early as 4:00 AM. Through rain, sleet or shine (and everything in between!), our dedicated drivers show up every day to deliver your orders. It's these folks that are ultimately responsible for picking, packing and delivering your orders accurately and of the highest quality. The virtual tips are a much appreciated and direct recognition of their hard work.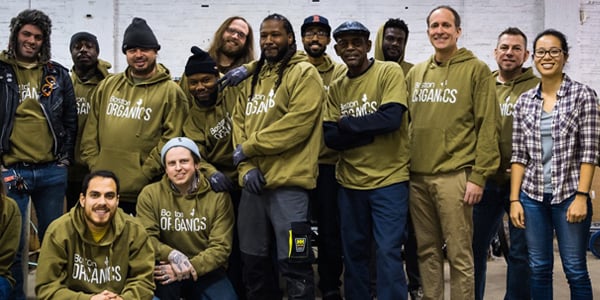 Boston Organics Crew (circa 2019)
thank you!
If you've made it this far in the blog post... Thank you, thank you, thank you! We couldn't build a healthy food system without our customers, network of farmers/suppliers, and other local businesses. The pandemic isn't over, but sometimes you have to reflect on the positive to manifest more. Our hearts are full and we're happy we can keep your bellies full.