For several of the farms that stock our deliveries with local produce and goods, this is still a busy time of year. The winter months are often a time to repair and reassess ahead of the growing season.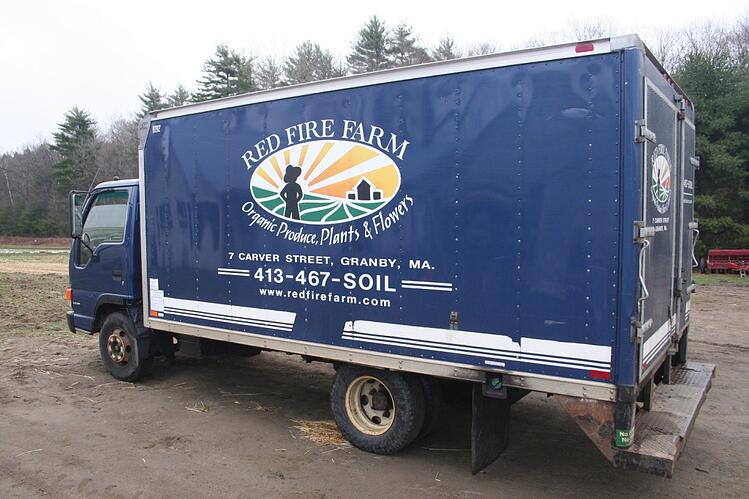 Transporting produce from Granby to Charlestown in style!
There's a stark duality at Red Fire Farm in the winter months – time split between greenhouses and fields but also digital planning sessions.
"Important winter jobs are to repair and upgrade machinery so that it is ready for spring planting and organize crop plans and seed orders for the upcoming spring and summer planting seasons," explains owner and manager Ryan Voiland.
"It takes weeks of non-stop Excel spreadsheet to plan and organize all the successions and budgets for the 100 acres of diverse crops grown at Red Fire Farm!"
Like many other farms, the Red Fire team is reduced to a core crew for the wintertime, "still quite busy with washing and packing roots, harvesting greens from winter greenhouses." To further increase growing season productivity, they also begin to prune – taking away dead or bulky branches and stems.
"In February and March, we spend significant amounts of time pruning our blueberry patches and also our young apple, pear and peach orchards – about 10 acres of winter pruning in all."
| | |
| --- | --- |
| Transplanter | Setting up the high tunnels |
And not only does Red Fire grow greens throughout the winter, Voiland sees a benefit to it.
"Winter is perhaps the best time of year for spinach and salad greens, as these plants sweeten up in the chilly conditions growing inside the winter high tunnels!"
But that doesn't necessarily keep his mind off of the spring and summer options.
"We do, of course, miss summertime favorites such as fresh tomatoes, sweet corn, melons and edamame, but this break from eating these crops will make them that much more exciting when the summer harvest rolls around again!"
A prime example of being rewarded for hardwork and patience.
This Week's Local Produce

All of the fruits and vegetables we deliver are grown without synthetic pesticides and are USDA certified organic. Interested in receiving produce that's both organic and locally sourced all year round? Check out our Local Dogma Box.