Growth is a year-round concept for Troy Asher, packinghouse manager of Atlas Farm (South Deerfield, MA). But the shorter winter days do bring a bit of an expected slowdown.
A message from Atlas Farm "As we keep a close eye on the evolving COVID-19 situation… Frequently touched surfaces throughout the store are being sanitized at least every two hours… We will continue to provide soup in take-home containers … We are doing our best to keep our shelves well stocked, and we appreciate your business as we navigate this uncertain time together!"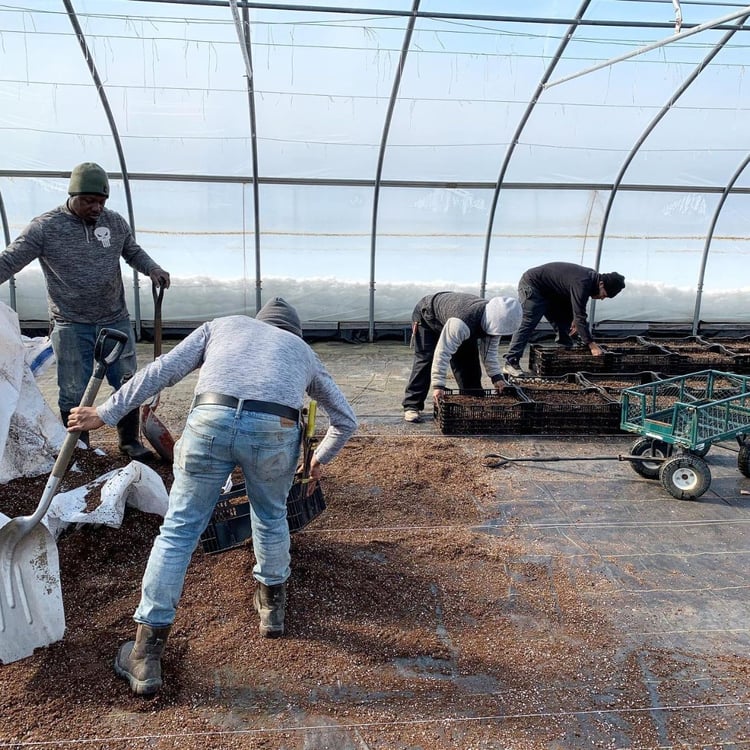 The greenhouse crew filled crates with fresh soil, set up drip irrigation, and transplanted kale — for harvest in April — and the first warm-weather crops of the 2020 season: basil, cucumbers, and tomatoes. (South Deerfield, MA)
"We grow salad and lettuce mixes, bok choy, and green, red and lacinato kale in our heated greenhouses during the winter and spring months. We do this to provide a fresh, green contrast to the typical New England winter root crops at our farm store and at winter markets."
"We work long hours and long weeks during the summer and fall," Asher explains, "so having time to relax and enjoy hobbies and catch up on our social lives is always welcome."
Their seasonal growing season crew from Jamaica heads home and, as does the year-round staff, " make more time for vacationing, spending time with family and resting up for the next outdoor growing season."
Beyond the expected preparations for the growing season, Atlas is implementing exciting sustainable changes to their operation.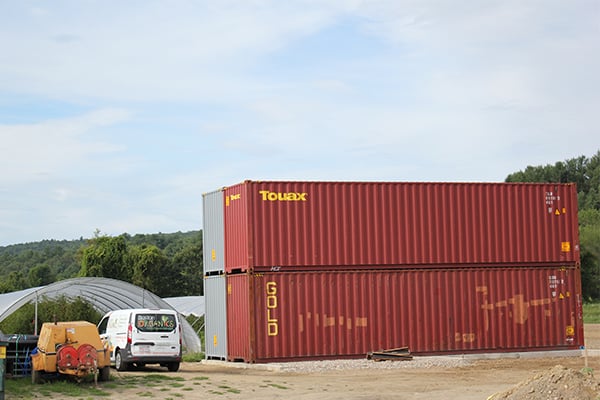 In February 2020, Atlas Farm turned off our propane burners and the main farm greenhouses are now being heated with biomass (inside of these shipping containers).
"This year, we will be switching on our new biomass heating system (pictured above), which will use wood chips derived from various sources like tree cutting companies and timber yards to heat all of our buildings, greenhouses and our farm labor house. It's a state of the art system which uses a sustainably-sourced, renewable fuel source with much more efficiency and less carbon output than older biomass technology."
This system is part of a longterm goal for Atlas – 100% renewable energy use on the farm. The farm has already put up large solar arrays and are hoping to convert one tractor to electric "which would be a big money and fuel saver as well as a statement of what can be done all over the country and world to decrease the use of fossil fuels in agriculture."
This Week's Local Produce

All of the fruits and vegetables we deliver are grown without synthetic pesticides and are USDA certified organic. Interested in receiving produce that's both organic and locally sourced all year round? Check out our Local Dogma Box.