Cold winter months aren't usually what many have in mind when they consider fresh local produce. Snow, sleet, and cold winds are seemingly at odds with the bucolic ideal of fields exploding with fruits and vegetables on balmy days.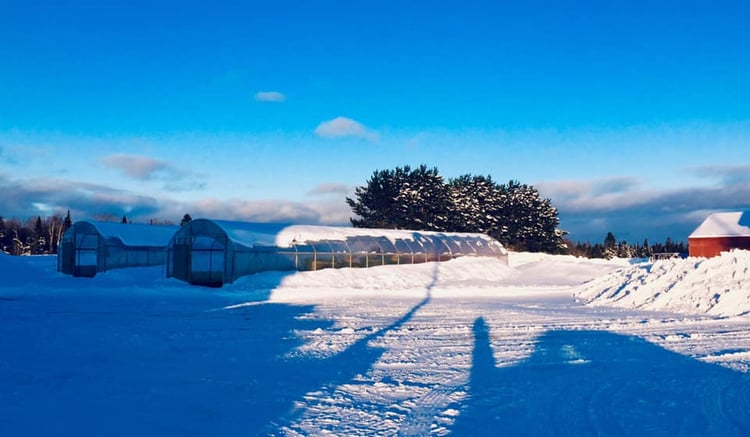 Winter at Nature's Circle Farm in New Limerick, ME
"While winter is slower than fall for us," explains owner/manager Meg York (pictured below on the left with her mother), "we are still very busy packing and shipping our products for most of the winter."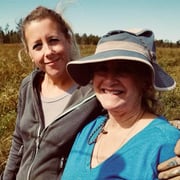 Nature's Circle employs a sizeable crew of nearly 50 during their harvest and packing time. The winter brings, not a stoppage of work for the year-round employees, but a much welcome 35-40 hour workweek as opposed to the 60-70 one they have from spring through fall.
"In late February, we start to maintenance our equipment and get it ready for spring planting. We have already started out plans on paper though, and have been working hard as a team to figure out how many acres to grow of each crop, what fields to put them in, how much [and which varieties of] seed to buy."
Being that they specialize in growing winter storage crops, the folks at Nature's Circle aren't short on recipe ideas for colder months.
| | |
| --- | --- |
| Sorting root vegetables | Beet trimming |
"We exchange a lot of recipes at our farm. One of our crew members just shared a new recipe for Chocolate Beet Cake that I can't wait to make for my kids. We also made a Rutabaga Gratin that was scrumptious."
Even old favorites in their region like fried cabbage get shaken up a bit.
"We have made the old-fashioned fried cabbage recipe more interesting…by substituting butter with olive oil and Bragg's liquid aminos, and adding fresh grated ginger, onions, and garlic and frying the cabbage until golden brown. It's delicious!"
This Week's Local Produce

All of the fruits and vegetables we deliver are grown without synthetic pesticides and are USDA certified organic. Interested in receiving produce that's both organic and locally sourced all year round? Check out our Local Dogma Box.