Hanukkah season is upon us and to celebrate we've collected the best latke recipes from the Boston Organics recipes database and put them in one place. Regardless of your religion or beliefs, these five recipes are sure to please. That is the beauty of food, it can transcend differences and bring us together. Enjoy!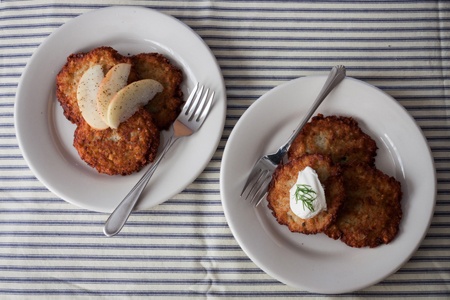 Ingredients
3 large potatoes (Russet preferred), peeled
1 onion, peeled
3 Tbsp flour
1 egg
1 tsp kosher salt
1 tsp black pepper
1/4 cup canola oil, or more
Recipe
Use a food processor to shred the peeled potatoes. Wrap potatoes in cheese cloth or allow to sit in a colander while your shred the onions. Shred the onions.Carefully heat the canola oil in a large frying pan. There should be at least a 1/4-inch layer of oil.Firmly squeeze the excess liquid out of the shredded potatoes and mix with the onions, flour, egg, salt and pepper in a large bowl.Test that the oil is hot enough by placing a single shred of potato into the oil. It should bubble and fry immediately. Gather a handful of the latke mixture, flatten into a round patty and squeeze out any additional liquid. Gently place in hot oil and fry until golden brown, about 3-4 minutes on each side.Transfer to cool on a wire rack or on top of clean paper grocery bags to wick away extra oil.Repeat with the rest of the latke mixture, replenishing the oil as needed. Serve hot. Top with apple sauce or sour cream!
Tested and Approved by Boston Organics (Eric Siegel)

Ingredients
FOR THE LATKES:
2-3 large potatoes, peeled (2 cups peeled and grated)
1 egg
3 tablespoons plain bread crumbs
1 teaspoon salt
¼ teaspoon pepper
3 tablespoons butter
3 tablespoons light olive oil
5-10 slices cheddar cheese
FOR THE PESTO:
1/4 cup olive oil
1/4 cup grated parmesan cheese (optional)
1/2 teaspoon salt
1/2 cup pine nuts
2 cups basil leaves, washed and dried
2 cloves garlic
Recipe
Latkes:
Line a large bowl with a clean kitchen towel and line a baking sheet with two layers of paper towels.
Place the grated potatoes in the towel then squeeze out all of the liquid from the potatoes. Discard the liquid then place the dried potatoes back in the bowl.
Stir in the egg, bread crumbs, salt and pepper until combined.
In a heavy saucepan, heat 1 tablespoon of butter and 1 tablespoon of olive oil over medium-low heat. To test if the oil/butter mixture is hot enough, drop a small piece of the potato mixture into the pan and if bubbles form around the edges, the oil is ready.
Carefully place two ¼ cup-sized scoops of the potato mixture in the pan and cook for two minutes, until the latkes are browning on the bottom.
Flip the latkes over carefully with a spatula and place 1-2 slices of cheddar cheese on one latke. Cook for one more minute then place the second latke on top of the cheese and press down. Cook for 30 seconds then flip over the grilled cheese latke sandwich, press down and cook for 30 more seconds.
Place the hot grilled cheese latkes on the paper towels to drain then repeat this process to make 3-4 more sandwiches.
Once the latkes have drained, it's time to eat!
If you want to take these grilled cheese latkes to the next level, you can add avocado or spinach to the cheese while cooking or switch it up with your favorite cheese.
Pesto:
Place everything but the olive oil in a food processor or blender and blend until it forms a thick paste. Then, with the processor on, drizzle in the olive oil. Blend until smooth. (If using a blender, add the olive oil all at once instead of slowly drizzling it in.)
Serve on the side as a dip, or add a dollop to the top of your latkes.
Ingredients
2 medium sweet potatoes
½ onion
3 whole eggs
½ teaspoon cinnamon
1 ½ tablespoons of brown sugar
½ cup matzo meal
¼ vegetable oil for frying
Recipe
Shred sweet potato and onion.
Rinse the potato under cold water, then strained them with a colander. Place a cheesecloth over the potatoes, and squeeze the potatoes to release as much liquid as possible. Discard liquid.
In a large bowl, combine sweet potatoes, onions, eggs, sugar, matzo meal, cinnamon, gently mix well by hand.
Heat oil in a large heavy skillet to 375 degrees. Scoop from the mixture (about 3 ½ ounce portions) and drop in hot oil. Cook about 2-3 minutes on each side until golden brown. Drain then in a paper towel or resting rack.
Featured in Kutsher Tribeca's Thanksgivukkah feast
Ingredients
2 medium beets, coarsely grated
2 medium carrots, coarsely grated
1 medium onion, coarsely grated
2 eggs, beaten
1/4 cup all-purpose flour
3 tablespoons olive oil
coarse salt and pepper to taste
sour cream or creme fraiche, plus chopped chives, for serving
Recipe
Combine the grated vegetables in a bowl. Add the beaten eggs, stir to combine, then stir in the flour and salt and pepper to taste.
Preheat the oven to 300 degrees F, and set a cooling rack on a sheet pan. Heat 1 1/2 tablespoons olive oil in a large skillet over medium heat. When the oil is hot, scoop 1/3 cup of the latke mixture into the skillet, and flatten to 1/4 inch thick. Scoop 3 more latkes into the skillet. Cook the 4 latkes until golden brown, about 4-6 minutes per side. Remove the latkes to the cooling rack on the sheet pan, and place them in the oven to keep the latkes warm while you cook the remaining four.
Add another 1 1/2 tablespoons oil to the skillet and cook the remaining latkes. When all the latkes are done, serve them warm with a dollop of sour cream or creme fraiche and a sprinkling of chives.
Makes 8.
Ingredients
1 large russet potato, peeled and grated (2 cups)
1/4 teaspoon minced yellow onion
1/4 cup plus 1 tablespoon white spelt flour
1 tablespoon ground flax seeds, mixed with 3 tablespoons water
3/4 teaspoon sea salt
1/4 teaspoon paprika, optional, try smoked
Optional: Pinch crushed red pepper flakes
Recipe
Heat oven to 400 F. Place all of the ingredients in a large bowl and mix well. You can speed this process up by using the grater attachment on a food processor for the potatoes.Scoop approximately 1/4 cup of the mixture for each latke onto a very well-oiled baking sheet. Flatten to approximately 1/4-inch thick. Bake for 8 minutes.Flip the pancakes and bake, until golden brown, approximately 8 minutes before serving.
Variations
Make smaller latkes by using 2 tablespoons, instead of 1/4 cup of the batter in each pancake.
Replace 1 cup grated potato with grated sweet potato or yam.
Add 1 tablespoon of minced fresh dill, parsley, or basil.
Add 2 tablespoons finely chopped green onion.
Add 1 clove pressed or minced garlic and 1/2 teaspoon seeded and diced chile pepper.
Add 1/2 cup peeled and grated parsnip or carrot.
Create Italian latkes by adding 1 tablespoon Italian spice mix.
Go Mexican by adding 1 tablespoon minced cilantro and 1 teaspoon each of chili powder and cumin.
Add 1/2 cup grated vegan cheese for an over-the-top latke experience.
For a gluten-free version replace the spelt flour with .