There's no denying that most everything has sped up in recent years.
While we are more connected than ever, there is now a premium on slowing down and engaging with the world around us. Citizens and consumers might have more readily-available information through phones and tablets, but those devices can create personally-curated bubbles blocking us out from our own shared spaces.
What if we could slow down the process and take in our surroundings in a new way?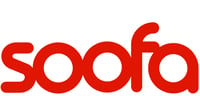 Enter Soofa – founded in Cambridge in 2014 by Sandra Y. Richter and Jutta Friedrichs, graduates of MIT and Harvard Graduate School of Design, respectively. Their goal was to "provide a platform for everyone in the community to have a voice" through Soofa Signs and Soofa Talk, the platform through which posts can be submitted. Their aim is to make cities both smarter and more connected.
But what exactly is a Soofa Sign?
A "Soofa Sign is the world's first outdoor 42" electronic paper display for downtowns, neighborhoods, parks and campuses." Think a large, informative e-reader. The Signs were designed with sustainability in mind, as they are not only solar powered but also require little energy and produce less light pollution than an alternative display.
There's a good chance you've seen one of Soofa's distinctive Signs around Greater Boston. Currently, they are installed in neighborhoods such as: the Fenway, Seaport, Allston Village, Everett, Kendall Square, and Ashmont.
These Signs provide a varied offering of outreach opportunities. Local businesses can share promotions while local artists can use them as a platform to spread their work. Cities can broadcast alerts and pertinent information to residents and visitors. Busy commuters can even see public transportation schedules and estimated rideshare wait times.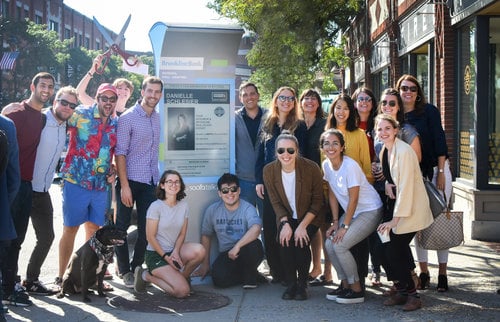 Here's just one local example:
This past September, Soofa Signs installed in Brookline's Coolidge Corner. The launch was made possible with title sponsors Brookline Bank and was an officious affair complete with a ribbon-cutting. Molly LaFlesh, Soofa's Chief of Staff, looks back fondly on the occasion as an opportunity to have seen the effects of her company's work up-close.
"Danielle Schlesier, a local real estate broker in Brookline, came out to the event, and you could see her excitement at seeing her content up on the Signs. I love working with champions of local community like Ms. Schlesier."
Soofarians' own dynamic community
Soofa not only promotes community involvement and sustainability through their signature Signs but also within their own company. A soon-to-be implemented compositing program and improved recycling program help reduce their year-round impact, alongside competitive company-wide challenges like the recent No-Waste November. Many "Soofarians" are active volunteers in their own spare time, working with organizations like the Gift of Life Foundation (Help Cure Blood Cancer) and Jetpac (building a strong American Muslim political infrastructure), but will soon be able to use four paid hours per quarter to give even more back to their communities.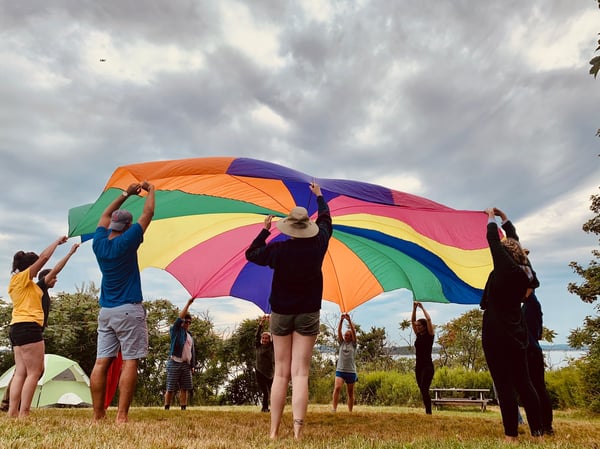 Yoga Friday, Book club, and more!
They also offer a number of programs to promote employee wellness and happiness. Their weeks are punctuated by daily team exercises to prep for their annual ski trip, Whiskey Wednesdays, and team lunches and yoga on Fridays. A company book club promotes discussion or professional development books such as Kim Scott's Radical Candor, Brené Brown's Dare to Lead, and the inaugural fiction selection, George Saunders' The Brief and Frightening Reign of Phil. Monthly birthday outings have seen 2019 close with celebrating Saggitarians at Soofa heading to the ICA to see Kusama's Love is Calling exhibit, and Capricornians at Boda Borg in Malden to immerse themselves in puzzling scenarios.
Soofa also has Boston Organics deliver organic produce and snacks to keep "Soofarians" going. Favorites include Northeast mainstays like crisp apples, but also Sap! Maple Sodas and Annie's Bunny Fruit Snacks for those looking to appease their sweet tooth.
According to Molly LaFlesh, "Partnering with Boston Organics was an easy decision—having healthy, organic snacks on hand fuels us on busy days at our growing organization. We're not going to bring communities closer if we're eating junk food."
So the next time you find yourself with some time out and about in the Greater Boston area, take a second away from your phone or other devices and look for a Soofa Sign. While it might appear to be yet another screen in a world of many, it just might serve as the inspiration for branching out into our shared communities in ways we haven't just yet.
---
Are you proud of your company's wellness program? Have you seen positive impacts on employee health and engagement? We'd love to hear about it and share it in our blog! Please get in touch with us at Marketing@Bostonorganics.com
Various photos provided by Soofa and Boston Organics.