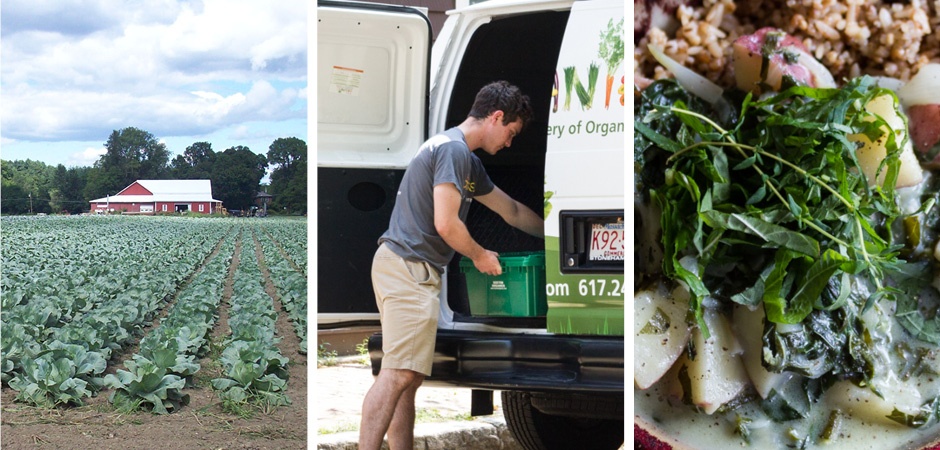 The Boston Organics Community is full of smart, curious individuals who care a lot about where their food comes from. As you can imagine, we get loads of emails and phone calls every month ranging from compliments to questions to inquiries.
We know that for every person who picks up the phone there are two people with the same question that goes unasked. That's why we decided to put together some of our most commonly asked questions right here on our blog—to help current and future members of the Boston Organics Community find answers to things they may not have even known to ask.
---
I like supporting local farms, but when I tried a CSA I got stuck with too much kale. Will this happen to me if I sign up for Boston Organics?
Community Support Agriculture (CSA) shares are a fantastic way to support small-scale farmers, but CSAs might not work well for everyone, especially busy professionals and families with picky eaters.
Fortunately, our flexible and convenient "hybrid CSA" model means you'll never drown in kale—unless that's what you want. Our amazing produce purchasing team designs your weekly box to include appropriate servings of each fruit or vegetable, and the contents of your box change every week so you eat a balanced diet and not get bored. Finally, our special "No-List" option ensures that you're excited about every fruit and vegetable you receive.
Can I get things besides just fruits and vegetables?
Most definitely! Our organic grocery grocery add-on selection is expanding rapidly. Subscribe to essentials like milks, eggs, cheese and bread and we'll deliver them with your produce box. Or shop your favorite snacks, smoothies, nuts and chocolates for a special treat. You can even stock up on pantry staples like olive oil, flour, pasta and rice—all certified organic.
I'm vegan. How do I know if an add-on contains animal products?

All of our vegan grocery add-ons are clearly labeled on our website. Just look for the green circle with a white "V." And even though most of our customers are omnivorous, everything we currently sell is vegetarian.
It looks like most of your stuff is local, but then there are bananas in some of your boxes. What gives?
All of the fruit and vegetables we sell are 100% USDA certified organic—that's always been our number one priority. Organic food is grown without the use of synthetic pesticides, GMOs or irradiation and we firmly believe that organically grown food is better for our bodies, better for the environment and better for our children.
At the same time, we consider organic and local food to be our "Gold Standard." We source locally as much as possible to support local farmers, build a resilient local economy and because local food is often fresher. However, we also recognize that there is no official standard for "local" and there are times when it may not be realistic or sustainable to eat exclusively local food.
You may see imported organic fruit in your box, especially in the winter. It's a fact that members of the Boston Organics Community love bananas. If we didn't offer them in our boxes, they would be forced to get them elsewhere and it's possible that they would be doused in pesticides or grown unsustainably in poor-quality soil.
If you don't want bananas, you can always add them to your No-List. And if eating local is particularly important to you, we recommend you try our All-Local Dogma Box. Similar to a CSA or farm share, our Local Dogma Box is filled with the best organic produce from local and regional farms only, but there are no long-term commitments and it's delivered for free right to your front door.
Do you deliver year round?
Absolutely! Winter, spring, summer or fall, all you have to do is call, er, sign up online, and we'll be there. We work with a network of organic farms to make sure you always have something fresh and healthy to eat in your kitchen.
Where do you get your fruit and vegetables in the winter?
As you might expect, our selection of fruits and vegetables changes with the seasons. Between November and March our local farm partners have a wide variety of root vegetables, but we'll also get leafy greens from farms along the eastern seaboard and juicy citrus from Florida. Some of our local farm partners also grow crops like basil, cucumbers and tomatoes in solar-powered green houses—a real treat in the winter.
We source locally as much as possible, but all of our fruits and vegetables are grown sustainably using USDA certified organic methods. For a detailed look at how we define environmental sustainability, read our blog post: "Preserving Our Values in the Winter."
How much does delivery cost?
Delivery is totally free for all of our standard service offerings!
There is a $5 charge if you want your groceries brought up above the 3rd floor in a building, but otherwise you can get beautiful, certified organic fruits, vegetables and groceries delivered to your front door at no extra cost.
I don't live in your delivery area, can I still get deliveries?
If you work in our delivery, we can easily deliver a big box of certified organic fruits, vegetables and groceries to your office. Our customers enjoy the convenience of bringing groceries home in one of our green bins without having to stop at the supermarket, but you can also leave out an insulated bag for us to transfer your items into.
If you don't live or work inside our delivery area, please fill out this form on our website. We keep track of interest in towns outside of our current delivery area and use this data to help us determine when we need to expand our delivery radius. We'll also send you an email as soon as we start delivering to your neighborhood!
I don't live in Boston, can I still get Boston Organics?
It depends how far outside of Boston you live. We deliver all over the Greater Boston Metro Area, including several towns east of I-95. (See our full delivery area.) Unfortunately, as our name implies, we don't deliver to western Massachusetts or other parts of New England.
If you live in a city just outside of our delivery area, we invite you to fill out this form on our website. We keep track of interest in towns outside of our current delivery area and use this data to help us determine when we need to expand our delivery radius.
I don't have a good drop off location (ex: no front porch), what should I do?
We are insured to accept keys and can happily leave your delivery in a locked entryway or apartment lobby. Click here to learn how to send us a key. If that's not an option, give us a call and our creative customer service team can work with you to find a solution.
What happens to my delivery if I'm not home?
You don't have to be home to receive your delivery. In fact, most of our customers aren't home when their delivery arrives—that's part of what makes Boston Organics so convenient.
Your delivery will usually arrive between 10am and 5pm on your scheduled delivery day. Whenever you return home, you'll find a big green box full of fresh, organic fruits and veggies waiting just for you. Remember to store your produce properly to prolong shelf life and if you're getting dairy items or any refrigerated grocery add-ons, we ask that you leave a well-marked cooler in your delivery location and send us an email to let your driver know to look out for it.
Oh no! I forgot to leave my box out! What's going to happen to me (and my groceries)?!
Take a deep breath; it's all going to be okay. We understand that you're busy and might forget to leave your box out one week. We're not going to hold your fruits and vegetables hostage—you'll still get your regularly scheduled delivery.
Your driver will note that s/he didn't pick up a box from you and we'll make sure to pick up two boxes with your next delivery. (FYI, the boxes stack inside of one another other for efficient storage.) The reusable green bins are an essential part of our business operations, so we do ask that you try to remember to leave your empty bin out on your next delivery day.
I'm going on vacation. What will happen to my fruits and vegetables?
It's very easy to let us know when you need to cancel an upcoming delivery. If you tell us far enough in advance, we'll know to purchase fewer fruits and vegetables from our farm partners, but as long as you submit your cancellation before 12-noon the day before your delivery, you won't be charged any fee.
The Boston Organics Crew takes home some of the extra produce at the end of each week and the rest is donated to Food For Free to be distributed through the emergency food system in the greater Boston area.
I got a weird whitish root in my last delivery. What is it and what can I make with it?
You're going to have to be a little more specific—there are a lot of weird whitish roots that grow in New England during the winter.
If it's long and carrot-like, it's probably a parsnip or a daikon radish. If it's smooth and round, it could be a Hakurei turnip. Gnarled and scraggly? Likely celeriac. The first thing to do is check the tag taped to the outside of your box, which has a checklist of what's inside. If you're still having trouble identifying it, you can send us a picture and we'll let you know what it is!
Most roots can be peeled, chopped, drizzled with olive oil, then topped with salt and fresh herbs and roasted in the oven for 15-30 minutes. We also have dozens of wonderful recipes on our website for each of the fruits and vegetables we offer. So once we figure out what exactly that weird root is, you'll be able to cook it like a pro.
I thought dandelions were flowers. Why did I get a bunch of leaves?
You're right! The leaves that you found in your box come from the plant with the bright yellow flowers whose wispy spores are an object of fascination of blustering youth. Most gardeners and grounds keepers consider dandelions a weed, but to paraphrase Ralph Waldo Emerson, a weed is just a plant whose virtues have not yet been discovered.
Fortunately, the virtues of dandelion greens are well-known. They're a great source of vitamin K and a spicy addition to spring salad mixes, much like arugula. Though they can be eaten raw, most people prefer to blanch or sauté the greens to help reduce some of their natural bitterness.
I'm not a current customer, but I love your website and blog. Is there a way for me to get updates and seasonal recipe ideas?
Of course! Our electronic newsletter, The Weekly Beet, is sent out every Monday morning with updates and recipe suggestions for the week. Get the latest news from the farm to your inbox. Sign up here.
Your delivery drivers are always so quick, I never get a chance to thank them. How do I find out who is delivering my produce?
We have a wonderful group of talented and dedicated employees who make up the Boston Organics Crew. We try to keep your driver as consistent as possible, but our routes do change slightly from week to week, so you may not have the same delivery person every time.
You can meet some members of the Boston Organics Crew on our website. Like Santa Claus and his reindeer, we move quickly to bring people all over the Boston area fresh, organic produce, but we're always willing to stop and chat with a member of the Boston Organics Community. We're happy to answer any questions or hear about your favorite fruit or vegetable and we'll share our favorite recipes!
I love organic produce. Can I join the Boston Organics Crew?
We're always on the lookout for talented candidates to work in our office and warehouse or to drive our vans and cargo bikes. If you appreciate fresh produce of the highest quality and have a positive attitude, we'd love to have you join our team.
Check our website for current job openings and send a resume and cover letter to jobs@bostonorganics.com.
---
We're proud to have one of the friendliest and most helpful customer service teams in the Boston area.
As a small business, we make time to answer all of your questions and respond to any issues that you may have with your deliveries. Contact us if you ever have any questions.
Who knows, you just might see it pop up in our next blog post!
Updated 2/22/2021. Originally posted 11/19/2019.