Customers have the option of selecting items from among our extensive grocery and produce add-on offerings to create a box tailored to your needs! This a great way to keep your favorite items like dairy products, eggs, bread, pizza dough, chips and salsa arriving during the summer months while also growing some of your own produce or visiting farmer's markets.
To get started, check out this guide, and, as always, feel free to reach out if you have any questions or concerns.
Managing Your Custom box

First, switch your box type from your current produce box to the custom box. Sign in to your account. Click on your name to expand the My Account drop-down menu. Select Subscriptions.
Your Subscriptions page will display your current box and list any add-ons you currently have. Click Edit beside your box type. In the pop-up window, click Yes beside "Would you like to change your box type?" From the drop-down menu, select Custom.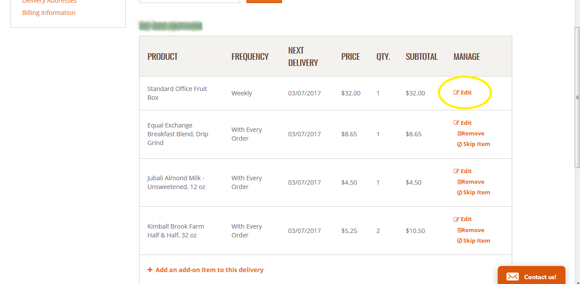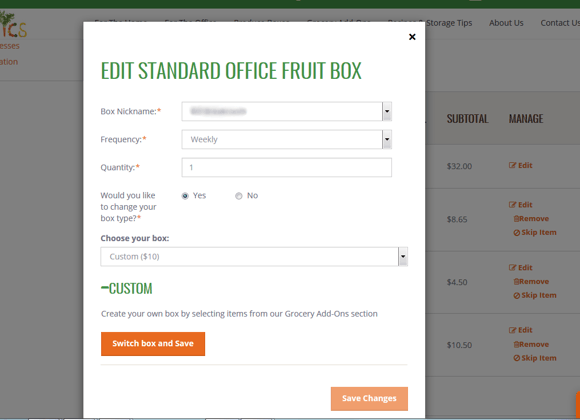 If you had any add-ons in your subscriptions when you switched from a produce box to the Custom Box, these add-ons will remain in your Custom Box. Likewise, should you choose to switch back to a produce box, your Custom Box contents will remain as add-ons. Your order subtotal will be tracked at the bottom of the list of box contents.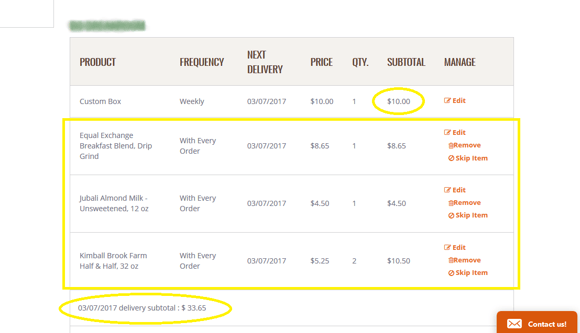 The base price of the Custom Box is $10 (this is only applied to the Custom box. Customers who continue to order add-ons with their standard produce boxes will not be charged any additional fee.)
If you purchase $40 to $60 worth of produce and groceries, this charge is reduced to $5. For Custom Boxes totaling over $60, this charge is waived altogether. To add more items to your cart, click Grocery Add-Ons at the top of the page or "Add an add-on item to this delivery" below your list of add-ons and browse by category or search our entire selection.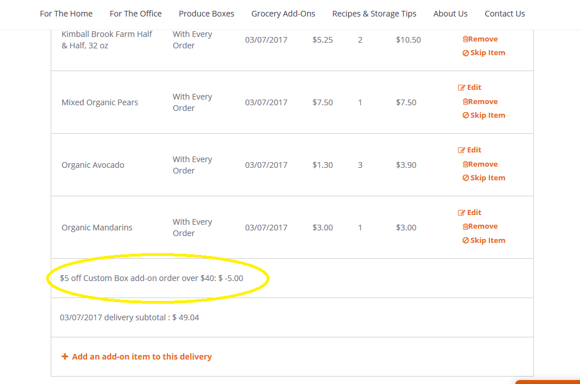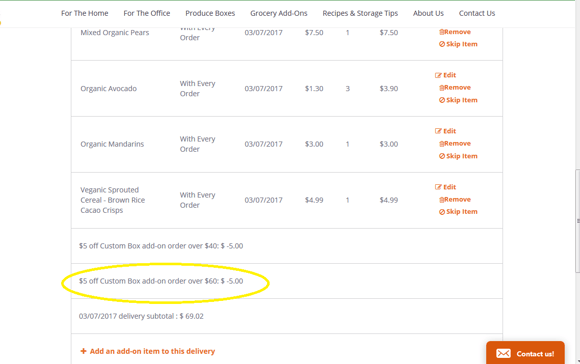 Important Things to Note
Item Frequency and availability
You are responsible for reviewing the contents of each order prior to your delivery day. As long as there is a deliverable item in your order, you will receive a delivery. The default for add-on items is that they will be included in each delivery. To change this, select "One Time" while checking out or click "Edit" beside the item in your subscriptions page.
Including an item as a recurring add-on does not guarantee that it will be available in perpetuity. Some items experience periodic supply issues, while others may only be available seasonally. Please review your box contents each week so that you know what to expect and can make any necessary adjustments.
Tracking box contents
You will receive an email 24 hours prior to the account update deadline for your scheduled delivery listing your current box contents or notifying you that your custom box is currently empty. If you would like to change your order, please add items, change your box type or cancel your order by the deadline for your delivery day.
If there are no items in your subscriptions, you will not receive a delivery and you will not be charged.
Deadlines
Please follow our usual add-on ordering deadlines when selecting items to be included in your custom box. Deadlines can be found on our Policies page.