Timing is everything when eating a pear. Eat one before it's ripe and it will be crunchy but devoid of flavor. Eat one past its peak and the mushy texture will ruin the whole experience.
The traditional "pear-shaped" European varieties (Bosc, D'Anjou, Bartlett) get mealy when they are left to ripen on the tree. That's why pears are picked at a "mature" state and it is often up to the consumer to let them ripen properly.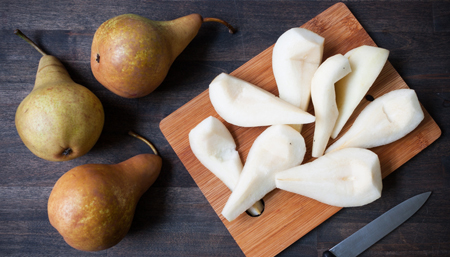 Leave firm, unripe pears on a countertop or place them in a paper bag with other pears, apples or bananas to increase the rate of ripening. Pears ripen from the inside out, so if a pear is soft to the touch, it's already past its prime.
The best way to test the ripeness of a European pear is to gently squeeze its neck. A little give indicates that the pear is ripe and ready to eat. You can refrigerate a ripe pear for up to five days, but we advise against placing an unripe pear in the fridge as this will ultimately weaken its flavor.
Asian pears are round and do not need to ripen the same way. Whether you're eating it like an apple, slicing it into a salad, or poaching it in red wine, Asian pears should be eaten when they are firm and crisp.
Try These 3 Perfect Pear Recipes: