Since the creation of Equal Exchange 32 years ago, people and relationships have always been at our center. Coffee, chocolate, tea, mangoes, cashews; these are the mediums which allow us to show the world that ethical supply chains are viable and that there is more than one way to do business. Radicalism lies within the Equal Exchange model -- i.e., a supply chain that is characteristic of true democracy, cooperative learning, transparency, and respect for our planet and its people.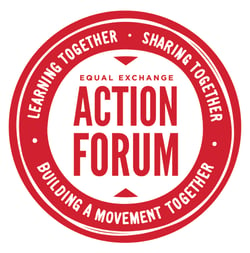 We at Equal Exchange have supported our producer partners abroad and have stood alongside them in their struggles to build a more sustainable trade system. We have intentionally committed time and resources to strengthening our internal democracy as a worker co-op. As we reflect on the organization and the model we have built and the complexities that now define our world, we have come to realize that there is a missing piece: you. This insight led us to create the Equal Exchange Action Forum.
In an attempt to build a democratic food system that is truly transformative, it is not enough to focus on the buying and selling of a product; likewise, for true change to occur, involvement can not begin and end with a purchase. Voting with your dollar is not enough. Democracy takes effort, commitment, collective responsibility, and passion. It is not always easy. It is definitely not straightforward. But it is necessary if we want to create a better world.
The Action Forum is an initiative through which we invite individuals to participate in our organization more deeply than ever before. This process has been fluid and malleable. We are trying to find better ways to carry out our work; to be transparent and authentic about our successes, weaknesses, challenges, and visions. To do this, we hope to build a group of active participants who will do this work alongside us.
This past year has been one of learning, connecting and discovering a shared community and culture within the Action Forum group, now comprised of 4,000 people across the U.S. and abroad. We have gathered in breweries and shared a beer; convened in churches; presented in community spaces; had round-table discussions at food cooperatives; organized potlucks; and even sipped espresso with members at their kitchen tables. Our team has gone from the East Coast to the West, and many places in-between. In face-to-face meetings and webinars, we are grappling with the complexities of our food system and beginning to formulate innovative solutions, together as a community.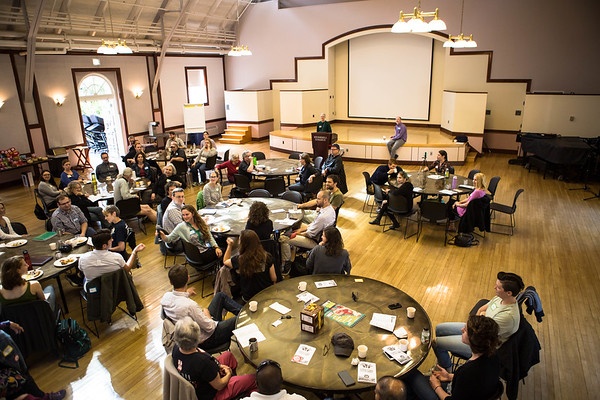 Last year, over 100 individuals came together at Equal Exchange's first-ever People's Food System Summit. A milestone in our work to build the Action Forum, this event brought together people from all parts of our supply chain: Equal Exchange worker-owners, producer partners and allies, together with our Action Forum members. As a community, we began to grapple with many food industry dilemmas and ways we could imagine building a better food system.
On the first day of the summit, we delved deeply into the corporate consolidation that characterizes our food system; the successes and failures of the Fair Trade movement; the effects of climate change from the perspective of our producer partners; and alternative models that opt out of the corporate system. The second day was spent building the foundation of our community and culture of democracy among members of the Action Forum. We debated and voted on proposals regarding the Action Forum's path forward, broke out into small groups to discuss how we can build tools and grow our community, and made a commitment to stay connected to continue this work, together.
This year we will be hosting two of these summits. One will be at Stonehill College in Easton, MA, on June 8-9th. The second one in Chicago, IL, at Loyola University on July 7-8th. If you would like to join our community or attend one of our Summits, click here to stay connected to us and help us to build a better food system.
We have just begun to build the foundation and tools for our citizen-consumer community and we certainly have a long path ahead. But it is in the journey where we can find pockets of sacred places, people, and communities supporting each other. We are looking forward to continuing to learn, engage, and mobilize together for years to come!